"My Turn On Water Dog Flat"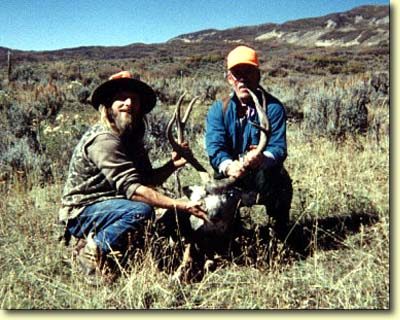 Leslie Knecht (right) and Don Arnold (left) showoff Leslie's 4x4.
It was the third year that my buddies and I had made a trip to the pristine wilderness area near Montrose, Colorado. Al's Outfitting, of Montrose, Colorado, had given us some great hunts and outstanding service in the past, so we booked for our third hunt.
On the first day, we hunted an area where our guide, Al, felt we had a good chance of finding some great bucks. We had never hunted the area before, but Al assured us that it would be worth it. Only one buck was harvested on that first day, and the faces on the other hunters in our group were already growing long. My buddy, Pat, and I had really talked the area up to the other guys in the party, and we continued to do so. We assured the others that the next day would be better in Water Dog flat, and it was!
We awoke on Sunday morning to 10 inches of fresh snow. We spent much of the day waiting out the snowfall, hoping that when it cleared we would find some good bucks. That evening, after the snowfall slowed, we took two nice bucks. My buddy, Pat, took a really good 2-point that had 6-inch bases, 28-inch main beams, and was 22 inches wide. It was a beauty!
Each day after that was equally as good. We were seeing lots of bucks and the guys in the group were filling tags. As the hunt neared its end, I was the only one who had not taken a buck. Though I had seen many bucks and had lots of opportunities, I wanted an even better buck than I had taken in the past, so I was holding out.
It was the last day and my guide assured me that we would find something, hopefully a trophy! We checked several spots in the early morning, but only found does and small bucks. It was late morning when we stopped in an area near the edge of the lease property, where we began spotting. I had moved down the hillside toward a small creek in the bottom of the canyon and continued glassing the area. As I was glassing, I spotted the rancher, who owned the property, moving sheep around in the bottom. I knew that his activity could be helpful, maybe he would move a few deer too. Suddenly, I spotted a big, high rack at about 500 yards. The buck was moving away from the rancher, and when he jumped a fence, I knew he was a taker.
I watched the buck as he settled back down after putting some ground between he and the noisy sheep. He was well out of range for my rifle, so I had to loop back up the mountain and then back down towards the buck.
As I began back up the mountain, I bumped into some of the other guys and the guide. They had also spotted the buck and were going to keep an eye on him as I moved in.
Several hours of sneaking turned up nothing. I was a bit disappointed and decided to return to the fence line and wait until he either showed himself again or my hunt was over.
I setup just above the spot where he had jumped the fence. I waited, spotting the oak brush and hoping he would reappear. Then, I spotted Al and the other guys making a drive through the oak brush towards me. Shortly after spotting them, here came the buck! I waited patently for a clear shot. I knew I would only get one crack, and that if I wanted a buck this year, it would have to count.
Then, as he crossed a deep ditch, he stopped. He was about 300 yards away and I felt confident that I could connect. Bang! My rifle rang out and the buck went straight down. It was a great hunt, we all took bucks and I owe Al and his staff a big, "Thank you!"
Written by Leslie H. Knecht
Click-a-Pic ... Details & Bigger Photos
Click-a-Pic ... Details & Bigger Photos
Home | Hunting Forums | Photo Gallery | Hunting Articles | Videos

|


Hunts & Tags | Hunt Draw Odds | About Mule Deer | About Elk
Store | Classified Ads | Photo Tours | About this Site | Advertising

|


Older Content | Email Us | Privacy Policy | Links | Podcasts