"The Oak Canyon Bull"
We began planning our 1999 hunt in the fall of 1997. My Dad, Ed, wanted to hunt an area where we would see lots of elk and have the opportunity to hear some bulls bugling. We spoke with many guides, outfitters, hunting consultants and wildlife biologists before finally booking with Kennedy Hunting Services in northeastern New Mexico in June 1998.
The story begins in May of 1999. For Mothers Day, my wife and I decided to take my parents out to dinner and to a hockey game. During dinner my father began to complain about a shooting pain that was going through his leg. He had experienced this before, and thought he just needed to move around and get his circulation going. He began to feel better, so we decided to head out to the hockey game. About halfway through the game, my father again began struggling with the pain and we immediately rushed him to the hospital.
The next few months proved to be trying for all of us. My father saw numerous specialists, each having a completely different reason as to why he was so debilitated. He saw neural specialists, brain specialists, bone specialists, surgeons, heart doctors, etc. He was told he had advanced degenerative arthritis, sciatic nerve problems, brain tumor, severe heart problems, and cancer. After finally getting with the correct doctor, it was determined that he was experiencing a rare drug reaction from the combination of three medications he was taking. The medication reaction caused him to loose muscle mass in and around the hip and shoulder joints. To compound things, my father works in a machine shop that has no air-conditioning and it is extremely hot in the summer months. After conducting strength tests, the doctors determined that he had lost about 80% of the strength in his legs and shoulders. He returned to work in July 1999 and the heat continued to take its toll on him.
After he started feeling better and had regained some strength, he asked the doctor what the chances were that he would be able to make our planned elk hunt later that fall. It was the end of July, just over two months before we were to leave and the doctor strongly advised against making the trip. He just wasn't sure how much leg strength my father would have. My dad said, "I am going on this elk hunt even if it kills me. What do I need to do?" For the next two months, he religiously did his therapy exercises in the morning and afternoons, and routinely saw his physical therapist. During this time, I tried to convince him that we should cancel the hunt until October 2000, but he said, "No way, I'm going! This is the only thing that is pushing me through these exercises. Look, if I can't follow you on the hunt, just leave me behind and I will eventually catch up."
I had serious doubts, but I started calling the outfitter, wildlife biologists and others in the area and found out that they had three times the amount of rain they usually get in a year and the elk were in the best shape they had ever seen. This fired my dad up even more! Well, the day came and we were on the road, destination, Gulf Coast to Raton, New Mexico. We had a special pillow for my father to sit on to relieve the pressure from his hip joints. He wasn't fully back to strength, but he had regained about 75%. Needless to say, I was very skeptical about our hunt and his ability to chase the elk.
We arrived in camp with much anticipation for the next day. The first morning, we glassed a large canyon area but never saw any elk on the property we were allowed to hunt. Our guide, Harvey, couldn't understand where the elk had gone since he had seen them everyday for the last week. Well, as we left to go glass another area, we found the elk. There were about 20 or so, one was huge 7x7 bull! The problem was, they were on the wrong property. We continued to another area to glass before the sun got to high. Once there, we saw 20 to 25 elk with one 6x6 that was in the 320 to 330 class, but no shot opportunities.
The evening hunt was what Dad had always dreamed of. We hunted a huge canyon, dubbed "Oak Canyon", because of the large amounts of oak that covered the hillsides. It was absolutely beautiful!
We got in position about 2:30 p.m. and began glassing. About 20 minutes later, we heard our first bugle. We played with this bull for about 30 minutes before he finally caught wind of us and headed over the top of the mesa. We moved down about 300 yards and we bumped a bedded 5x5 that ended up running down into a creek area and we lost sight of him. About 10 minutes later a cow and calf came within about 30 yards of us, it was quite exciting. The sun finally started to set and elk began to bugle all over in the canyon. Harvey told us about a wallow at the far end of the park we were walking. No sooner did he finish; a 5x5 came walking out from the wallow just dripping with mud. Two 4x4's came out on the opposite side and they began bugling back and forth at one another. What a sight to behold! Then we heard two very deep, growling bugles from two different parts of the canyon, and we were off. Once in the bottom of the canyon, we discovered that the oak brush was so thick and tall that we could not see but 40 yards at the most. We could smell the musty smell of the elk all around us and we constantly kept the wind in our favor. Harvey let out a bugle, nine different bulls answered almost immediately, it was incredible. Then, a deep voiced bull bugled about 400 yards from the direction we initially came. At that point we had maybe 5 to 10 minutes of shooing light left. Harvey called again and the bull immediately answered. We finally were able to see his horns through our binoculars as he moved down the mesa, he was a big bull with very heavy horns. It was almost too dark to see, so we backed off a headed back to the truck.
On the walk out, my father told Harvey, "This is awesome! I never thought I would ever experience anything like this!" Well, the first day had been very good for most of the hunters in camp. Four 6x6 bulls were taken, the biggest being about 320. That left just three of us to fill our tags. That evening, the outfitter, Kirk, came up to talk with us. He said, "I think we need to split you and your dad up. We want to hunt each of you with two guides to increase your chances. We are going to hunt the same canyon tomorrow morning and come in from three different sides and see if we can get one of those growling bulls you guys heard this evening." We went from a 2x1 on to a 1x2 hunt just like that.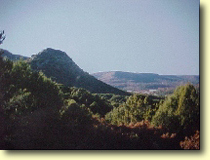 The next morning, Kirk and I headed up the North Rim and Dad and Harvey were going to come in from the same direction and hunt the same area we did the evening before. The other hunter was going to come in from the far, west side. Kirk and I quickly saw six elk with one average 5x5 in the group, but I decided with all the 6x6's people were seeing, I was going to hold out. As we continued on, we came up to a huge meadow and heard a bugle just over the side of the mesa. We moved quickly, and were rewarded when we saw the big bull. We guessed him to be a 370 to 375 B&C bull. He was taking his harem up a drainage to bed down. It was about 8:00 a.m. in the morning and getting warm quick. No sooner had they gone over the knob and out of sight, a bunch of cows and another 320 to 330 class bull came into view. From our vantagepoint, it was going to be extremely tough to get to them. We were about 3000 feet above them and a half-mile away.
As we watched the elk move away, we caught more movement further around the hill. It was my dad and his guide! They were not too far from the elk we were watching, so Kirk let out a bugle, hoping the bull would answer and give himself away to my father and Harvey. He did!
The bull began taking his cows into the timber to bed down, and all but two were ready to go. The other two continued to feed up on the knob. The bull proceeded to march his way up the knob to get those cows. He got behind the first cow, lowered his antlers and crashed into her. She moved a little, then he bugled at her and crashed into her again. This got her attention and she started trotting off in the direction of the other cows. He followed her down and then proceeded to come back up the hill and get the other cow. He crashed her with his chest, trying to push her in the direction he wanted to go. She wanted no part of him and took off down the hill towards the other cows. During this exchange, which took about 15 minutes, my dad and Harvey made it across multiple parks and through the oak thicket and were about 400 yards below the elk. Kirk said, "Your dad must be in excellent shape to make it across that terrain so quickly." I just said with a big smile on my face, "If you only knew!"
We continued watching and listening to the bull until he disappeared into the timber. Then we noticed my dad and Harvey moving up the hill towards the elk, they eventually disappeared into the timber where the bull was held up. We could no longer see any of the action from our position, so here is the rest of the story from my dad's point of view.
It was incredible! We could hear the bull thrashing the trees above us. We knew he was coming our way. My heart was pounding when Harvey froze and whispered to be quiet and remain still. I did what I was told and just waited, then, about 20 yards in front of us, a bush began moving back and forth. Three cows appeared, moving up the hill above us. Behind them, was what we were after, the big bull!
He was behind a large juniper tree, so I slowly moved to my right where I could see the bull, but still didn't have clear shot. He just stood there in all his glory, and it was something I will never forget. I used Harvey's shoulder as a gun rest, then waited for him to begin moving. Our hope was that as he moved across the hillside, a shooting lane would materialize.
It only took a few more minutes before I had a shot, it was a tight shot, but it would work. The 7mm Magnum let loose and the 325 3/8 B&C bull was mine. A true "hunt of a lifetime!"
Written by Mike and Ed Sodolak
Click-a-Pic ... Details & Bigger Photos
Click-a-Pic ... Details & Bigger Photos
Home | Hunting Forums | Photo Gallery | Hunting Articles | Videos

|


Hunts & Tags | Hunt Draw Odds | About Mule Deer | About Elk
Store | Classified Ads | Photo Tours | About this Site | Advertising

|


Older Content | Email Us | Privacy Policy | Links | Podcasts