"The Navajo Carrizo Buck"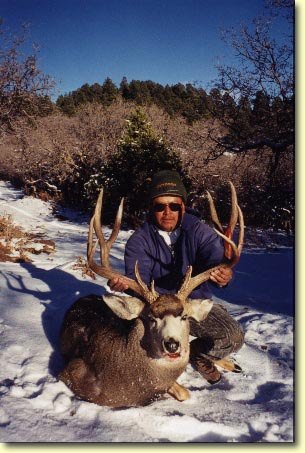 Percy's buck is 27" wide and grosses 188.
I have been hunting for the past five years and have harvested some nice 150 - 160 class bucks. In 1999, the Navajo Nation offered for the first time, a "Once-in-a-Lifetime" tag for tribal members. I applied and was fortunate to draw the trophy tag. The season is any 30 days between October 1, 1999 and January 31, 2000, within any of the 16 units on the Navajo Reservation.
It was my first trophy hunt and I was very excited. This year was my opportunity to harvest a monster buck. During the general hunt on the reservation, I guided my son and several of my friends. After the general hunt was over, it was my turn. I scouted several units in search of a trophy buck, I settled on unit 12 - Carrizo Mountain. During the spring, I had picked up some monster sheds, so I knew this area had the potential to produce a real brute. In mid November, I picked up my tag and decided to hunt 30 days straight, or until I harvested a trophy animal.
The weather was windy, cold, and cloudy with snow in the forecast. I decided to hunt on top of the mountain where I was seeing 40 to 45 bucks a day, several 180 class bucks. With all the excitement and my adrenaline pumping nearly out of control, it was hard to keep my finger off the trigger. In the next few days, it snowed 5 to 6 inches. Because of the snow, I was forced to change my hunting strategy. I decided to hunt the base of the mountain where the terrain was very rugged with thick cedar, sagebrush, and juniper. Unfortunately, I didn't see many deer.
A couple days later, I returned to the mountain with my good friend, Rod. Rod and I decided to go back on top of Carrizo Mountain, since that's where I had seen the most bucks. As soon as we got on top, the bucks were out in the open, chasing does. In the morning, we glassed for several hours. It was apparent that the rut was in full swing, but no early morning monsters were out.
Around 2:00pm, as we were driving along a high ridge that was thick with cedars and junipers, I noticed a huge, massive rack sitting just above the sage. I couldn't see the buck, and I didn't need to, because his large antlers gave him away. In my excitement, I told Rod to keep driving. We past within 50 yards of the buck, and once out of the bucks view, we stopped the truck. I quickly jumped from the truck, grabbed my .280 Remington rifle and began slowly walking back towards the buck. I was within 30 yards when that bad boy first saw me, but he didn't pay much attention. I didn't have a good, clear shot, so I threw a couple rocks at him, trying to get him to stand up. Finally, he jumped from his bed and I squeezed the trigger. I couldn't believe it, I missed! He ran only ten yards, then stopped to look back. I took another crack and the buck instantly went down.
I finally harvested a magnum buck. He's a magnificent 4x4 with 20 inches of mass on each side, a 27 inch spread, and gross scores 188 Boone and Crockett points. This is truly a monster buck for me.
Written by Percy Gale (Navajo Backcountry Guide Service)
Navajo Backcountry Guide Service

For more information about Navajo trophy hunts, contact Percy Gale at (505) 324-0301 or drop him a line at galepercy@hotmail.com.
Click-a-Pic ... Details & Bigger Photos
Click-a-Pic ... Details & Bigger Photos
Home | Hunting Forums | Photo Gallery | Hunting Articles | Videos

|


Hunts & Tags | Hunt Draw Odds | About Mule Deer | About Elk
Store | Classified Ads | Photo Tours | About this Site | Advertising

|


Older Content | Email Us | Privacy Policy | Links | Podcasts