"A Hunter's Letter Home"
Dear Mom,
Hope you and Dad are doin' well. How's the ranch? Hope Grandma's adjustin' to the home OK. I hate being away for this long with work in Wyoming, but am really lookin' forward to finally comin' home as a sixth generation rancher next year. Sure has turned into a long seven years, eh, what with all the family's been through. Well, here's a little of last fall's hunting to brighten up your day.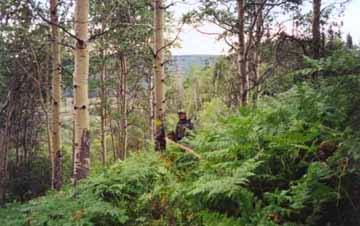 Head-high ferns in a Wyoming elk gully.
Had a good bowhunting season, 'though I didn't succeed. Fantastic fall colors in September and early October this year in the Rockies. Hunted some lush creek draws covered in bright green ferns whose fronds stretched over my head, contrastingly dotted with the white bark of aspens. Beautiful. Had a cow elk sprint 100+ yards down a scrub-oak hill to my cow call. She stood 10 yards in front of the aspen I was standing behind, staring me in the eyes and flaring her wet, black nose. After a minute or so, she walked back across a dry draw. I took a dead-eye shot through the crotch of the forked tree when she was about 35 yards off, as she turned back to look, but the arrow ticked a branch in front of her and sailed an inch over her back. Damn. Also, called in not one, not two, but three bulls at the same time by combining the use of bugle and cow calls. Pretty exciting! Bugling back and forth to three nearby beasts with massive antlers, each set to kick my butt! Had one charge downhill at me, about 40 yards off through thick timber. By the gutteral sounds he grunted after the shrieking bugle he let out, and by the sounds of him ripping at small pines with his antlers, there's little doubt he had his sights set on doin' me some serious damage! I'd be lying if I said it wasn't a little scary - but it was a huge thrill, too. Makes one feel like a part of it all. Unfortunately, the timber was too thick to see him let alone get a good shot off. Oh, well. Might do a little rifle hunting for elk in the coming weeks, but am getting pretty busy at work for much of that. There's always next bow season, I suppose.
Did tag a dandy mule deer during rifle season, though. Went to the river's high ridge, topped with pine-forested peaks, edged with golden aspen and tapering down rocky crags and red-hued sagebrush slopes to the river. Spectacular. That's where you, Dad, and I saw that herd of maybe six or eight 4 x 4 bucks and one *enormous* monster buck feeding along the road with their does, heading toward the valley's hay meadows when you visited after hunting season last year. Sure was the biggest buck Dad or I had ever seen, so I decided to give deer season a go in the adjacent hills of that area this year after some pre-season scouting. Go figure!
Opening day on the 1st was, surprisingly, a human zoo. Got to my area before dawn alright, but there were trucks and shots everywhere. It's a large part of the reason I've come to prefer the relative solitude of archery seasons. Not to mention I got tired, panicked, and turned around in the woods that afternoon due to a combination of overcast skies, flurries, and being tired from work. How humiliating. Did see fresh tracks and scat of a big buck right where I had sat for an hour earlier that morning. Sheesh. Feeling lucky to have found my way out to the truck before dark and the incoming snows overtook me, I headed back to the ol' homestead with my tail between my legs for a warm meal and a beer to regain composure and get some rest.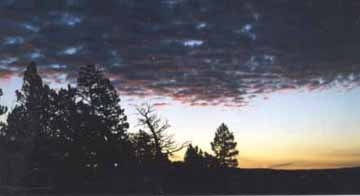 Hiking in before sun-up - the early hunter bags the buck.
Drove back before dawn two days later. It was a beautiful day in comparison. Clear skies with a great sunrise lighting up the tree-lined ridge, rocky slopes, and sagebrush hills. A little morning mist down the mountain towards the river. Snow-covered peaks in the background, drenched in violet alpenglow. Golden aspens in the foreground lining the ridgetop pines, without a lick of wind. And, best of all, not another soul in sight for miles. Pays to be patient. After hiking in along the rocky ridgeline at twilight, I decided to take a few pictures at sunrise, grab a quick drink and a bite to eat from my pack, and admire the scenery. Thought it'd be best if I did my morning "duties" there, about a mile from the truck, before hiking the rest of the ridgeline toward the river to seriously hunt. Figured the opening day hunters had probably driven the bigger bucks down to steeper rocks and draws above the river. After all was said, done, and packed up, I walked about 20 yards to the edge of an aspen patch, following the edge of the forest.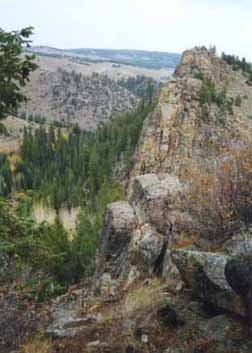 Suddenly, I saw a huge silhouette standing at the other end of the aspens against the morning sunrise. It turned its head to look at me at the same time, pivoting what looked like big branches above. My heart started racing. The next few minutes are a bit of a blur. The buck bounded off through the sagebrush out of sight through the aspens. I heard myself mutter, "Aw, s--t!" before I instinctively began an all-out sprint for nearly 40 yards around the aspen patch, jumping over rocks and sagebrush like a coyote chasin' a rabbit with teeth a-gnashin', but with pack on back and rifle in hand. From opening day hiking, I knew there was a slim chance of a shot if he went up the sagebrush hills before diving into the forest, spending more time out in the open than he should. I caught sight of him heading down a dip and then up a small, sage-covered hill, heading straight toward a forested draw that would've dumped him out the other side of the mountain down to the river, never to be seen again. I can still picture that big set of antlers, a sleek mass of grey hair, and a big white butt taking huge bounds up that brushy hill, about 150 yards off - and covering ground fast.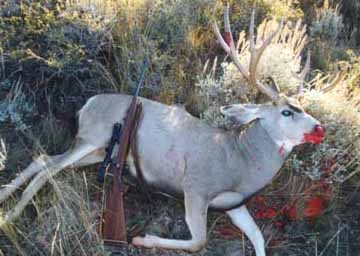 Rooster's first Wyoming muley, a near 30" typical 4x4.
I stopped dead on a rocky knoll, shouldered my .30-06, and made a couple of loud huffing sounds to try to get him to stop and turn. As Dad'll tell you, that can work to get a broadside shot on young bucks, but this mulie wasn't having any of that and was about to top out the hill. Centering the scope's crosshairs on the spine between his shoulders, I let 'er rip. Not that I really remember taking the shot. By all rights I should've been gasping for air after the sprint, but I don't remember that, either. It was a hell of a shot to have to take: sprinting, standing, sighting, steadying, and squeezing in the blink of an eye. But as soon as the rifle kicked, the buck dropped like a rock into the sagebrush. My pre-season target practice had paid off. I knelt down for a minute to keep from spooking him, until it was obvious that he wasn't going anywhere. By the time I walked up to him, he was done. At the angle he was bounding uphill, the bullet grazed his spine mid-back and angled into his lungs and heart, hence the bright red blood at his mouth and nose. So, thankfully, he didn't suffer. Immensely preferable to the irresponsible alternative, if without practice and given the shot and situation, of tracking a wounded deer for miles through the forest, over the mountain, and down a hellishly steep gorge to the river. Not to mention the pack out...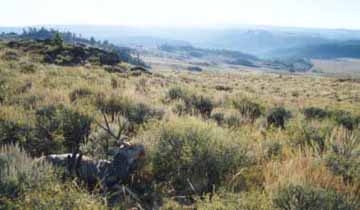 A view of the pine-crested, sagebrush hills rolling down to the river, typical muley country.
This good buck probably weighed in around 250 pounds before I field-dressed him, guessing of course. Hard to compare these big muleys to the little blacktails uphill from our ranch back home. The thick, 4 x 4 rack is about 30 inches wide, a beautiful typical Rocky Mountain muley.
Pretty exceptional considering he's probably only 3 or 4 years old, based on molar wear. Good genes in that area, to be sure. I caped his upper torso out and removed his head for mounting, given that next year's my last hunting season in Wyoming with the end of work here. Chances are slim of my getting anything that nice again, here or back home. I feel very fortunate for this fine buck. Took me a few roundtrips, with lunch and rest breaks, to field butcher and pack him out with that old frame pack that I've had since my first boyhood deer hunt with Dad (Photo 6). You know the one. Ended up bending the upper aluminum rods beyond repair with this deer! Just lucky they didn't give out completely. Sang a mountain man song at the top of my lungs while packing the head and rack out, rambling on like that ol' bald-headed guy in the movie "Jeremiah Johnson." You should've seen it, Mom. The adrenaline rush lasted all day and, obviously, still kicks in from time to time when I picture it all.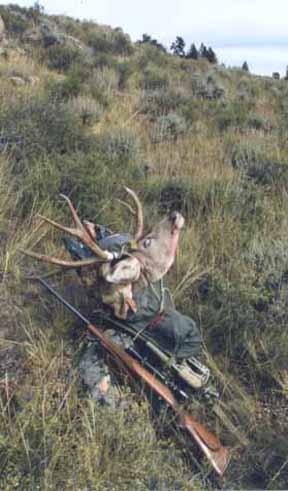 Quite a packload! The final stage of a hard, but satisfying morning's work - and one hell of a hunt.
It may not be the monster buck Dad and I drooled over last fall, but it's probably his first born son. He sure looks similar, with a nice, wide rack compared to the more common tall- and thin-racked muleys I've seen during my field work here. Between that and my antelope, I have one heck of a lot of meat for the winter for this ol' bachelor. The only way I'm shootin' a bull this year is if he's a monster - 'cause it'll mean buyin' another freezer!
Other than that, Mom, not much else new. Ho hum.
Is Dad drooling yet?
Love, your son,
Rooster
Written by Richard W. Rockwell
Click-a-Pic ... Details & Bigger Photos
Click-a-Pic ... Details & Bigger Photos
Home | Hunting Forums | Photo Gallery | Hunting Articles | Videos

|


Hunts & Tags | Hunt Draw Odds | About Mule Deer | About Elk
Store | Classified Ads | Photo Tours | About this Site | Advertising

|


Older Content | Email Us | Privacy Policy | Links | Podcasts