"The Strip Buck"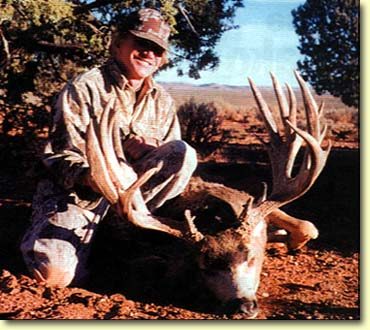 Sam's buck was the second largest non-typical mule deer taken in North America during the 1999 season that we have heard about.
In November of 1999, I had the opportunity to hunt the Arizona Strip along the north rim of the Grand Canyon. I had with me my son, Todd, and guide, Paul Stewart, both exceptional deer hunters. Paul likes to collect sheds during the summer months and the strip is one of his favorite spots. He had a photo of one particular shed he collected, two years before, of a massive non-typical found on the strip. We all asked ourselves, was this buck still alive and if so, could he be found?
Hunting the strip is different from most of the other hunting I am used to and actually prefer. Usually I move from spot to spot and rarely take my eyes away from my optical equipment. Not so on the strip. In most places the cedars are so thick you can only see a short distance. You need to hunt close to the water holes if the weather is warm. There you will find the most deer activity. Furthermore, the strip is not overrun with deer. Several days during the hunt we did not see even one deer.
We started scouting the area before the season and found several good bucks, even though we knew the chance of finding them again was not good. We spent a total of 21 days scouting and hunting before we took the buck in this article. We passed up one typical buck on the 14th day that would score close to 200 B&C points, but I could not get Paul's picture of the large non-typical shed out of my mind. On my way back to camp that evening, I kept thinking of the big typical we passed up and whether or not I had made a major mistake. On the other hand, once you shoot a buck the hunt's over, and you always wonder what might have been out there.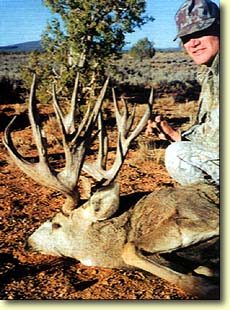 On the 21st day of hunting, all within a radius of 10 miles of where Paul had found this shed, we decided to go right back to ground zero, to the original water hole. When we returned early that morning, we noted that things had changed. It was still hot, and the deer activity in the immediate area had greatly increased. The rut had started and several bucks were using the water hole along with the does. One set of buck tracks looked unusually large and were now linked up with a small group of three does. The tracks were several days old. Paul knew of another water hole a mile away where the deer appeared to be going. Paul, Todd, and I headed for this second water hole. Once we got there, we found fresh tracks that appeared to be the same group of deer. We slowly followed these tracks for about 1/2-mile until we topped out on a ridge. The trees on the other side of the ridge were so thick I was afraid we would spook any deer ahead of us. We could not see directly in front of us but could see between the breaks in the trees across the canyon. We started to glass and a couple seconds later Todd said, "There's a buck." This huge buck was standing under a cedar tree. You could only see part of his antlers and his chest. Paul immediately got him in the spotting scope and said, "That's him."
I felt I could never get closer to the buck in this dry, thick brush. I dropped my pack, laid my rifle across it, and took the shot. The buck was hit somewhere in the front end. He jumped straight up, kicked his hind feet, and ran 10 yards into a thicket. Todd and Paul were both watching through their scopes and did not see him come out. They both said they could not see into the thick cedars, but after a few minutes Paul said he saw what appeared to be one of the deer's antlers on the ground. We all looked through the scope and agreed he was right. We decided to wait and watch for a while, but after 10 minutes I couldn't stand it any longer and said, "Let's go."
Although we had the spot marked, we had a difficult time locating the buck. Paul was first to spot the deer and yelled, "It's a monster!" Paul felt this was definitely the non-typical he had the shed from. A few minutes later, Paul pulled his camera out of his pack to take pictures and found out the batteries were dead. We obviously wanted to photograph this deer, so we decided to go back to the truck and drive it to camp where I had my camera. Two and half-hours later, we got the buck to the truck and drove way too fast back to camp. Luckily, we got our photos before the sun set.
We then sat down and measured the antlers. We were close to the final net Boone & Crockett score taken 60 days later of 257 4/8. This is one hunt I will never forget.
Written by Sam Jaksick JR. (Featured in the Winter 2000 issue of Trophy Hunter Magazine)
Click-a-Pic ... Details & Bigger Photos
Click-a-Pic ... Details & Bigger Photos
Home | Hunting Forums | Photo Gallery | Hunting Articles | Videos

|


Hunts & Tags | Hunt Draw Odds | About Mule Deer | About Elk
Store | Classified Ads | Photo Tours | About this Site | Advertising

|


Older Content | Email Us | Privacy Policy | Links | Podcasts