"Triceratops--Not To Be"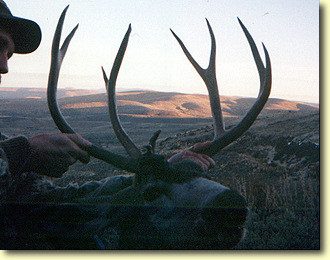 As you can see, the "Triceratops" buck is very unique.
My hunt began in the early summer of 2000 with a total of nine scouting trips into the pristine Wyoming desert. Some of my scouting trips even came before I knew I had drawn a tag. My good hunting partner, Dave Bunce, had convinced me to apply for the permit, and because he had hunted and harvested a 32-inch 7x8 in the area, he was excited to help me get a good buck.
My buddies and I found many great bucks, but one in particular always lingered in my mind. I dubbed the buck "Triceratops", because of the three-horned look he carried. He was a normal four-point on one side, but the other side was strange! He didn't have a main beam or a G-4 point. Instead, he had two G-2 points, and two G-3 points. It's a dagger-like point growing straight up from his burr that forked at the top. "Triceratops" also had four brow tines on this side, one being about five inches and arching down over his face. Although he was not a huge buck, he was definitely unique. He was a one-in-a-million buck, and the one I was going to pursue.
On opening morning, I worked my way down the ridge opposite of where I had seen "Triceratops". I was in position about 45 minutes before sunup, I had the canyon to myself, and everything seemed perfect.
As it began to get light, I could see deer everywhere, including three does that fed within 25 feet of me. It didn't take long to find "Triceratops" bedded down watching for danger as his two summer buddies fed, one being a very heavy, wide 3x4. There was not enough light to shoot, so I searched the canyon for more deer. I found eleven more bucks, including a high, wide, massive buck, which made my decision to shoot "Triceratops" a difficult one.
For three months, I had my mind set on the three-horned stud, and I wasn't going to change it. I was not comfortable with the shot I had, so I waited. Then the worst happened, I spotted another hunter walking in from the bottom. I knew things were going to happen very soon, as all the deer had their eyes focused on the human intruder.
I had to make a quick decision. I readied my gun, put the buck in my scope, and put a strong bead on his shoulder. Just before I squeezed the trigger, I heard the crack of another rifle. I watched in anger and disbelief as "Triceratops" dropped dead in my scope! I was devastated to say the least. I looked down at the "opening morning" stalker, but noticed that he was not the one who shot. Then another orange man appeared to claim his prize.
I had to see the old buck I'd been watching up close, so I rushed over and meet the happy hunter as he stood and admired his trophy. I learned that the Kemerrer, Wyoming resident had also staked out the unique "Triceratops" buck. He said he had bow hunted the deer, and also knew I had been watching him. He thought I'd be coming from the top and he'd have to come from the bottom. He also knew that he would need to shoot the buck the instant that he saw him. As far fetched as it may sound, this edgy guy literally shot "Triceratops" at well over 500 yards with a .308! Knowing there was nothing I could do about the gut-wrenching situation, I took some photos of the buck, and off I went in search of the huge buck I'd seen earlier that morning.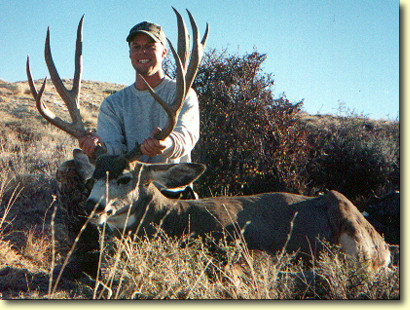 Stefan didn't get "Triceratops", but the buck he did get is a monster!
I met up with my buddy, Brian, and told him of the new buck I'd seen. We split up on different ridges to look, but to no avail. Later that day, I decided to check a canyon where a big buck we chased two years earlier had gone to hide. I peeked over the ridge to glass a shelf that was covered with buck brush. As I did so, twenty deer immediately fled, including the big boy. I managed to get one off-hand shot at the buck as he made his getaway. All I could see was his antlers, head, and the top of his back. It was a sure miss, and a shot that I probably should not have attempted. But hey--a buck like that, I just couldn't help it!
I told the rest of my hunting partners of the high, wide, heavy racked buck, but they didn't seem to believe me. It didn't matter, I knew he was a magnum buck and I was going to find him again.
The next few days was tough hunting. It was hot, and I was becoming very frustrated. I nearly gave up from all the disappointment I still felt from the opening day episode. The big one disappeared for four days, but finally turned up on Oct. 5th.
We had setup on another buck we watched the night before, I was hoping my buddy, Bill Monday, could get a shot at him. We hiked off the ridge before light, hoping to intercept the buck early in the morning. As it began getting light, we noticed we were on the wrong ridge. Before we could hike to the next ridge, we had to wait for a two-point to move into the next draw, so we wouldn't spook him. As we watched the small buck, I realized that it was the same buck that had been with the big buck earlier. After the buck passed, we headed for the next ridge, but no bucks were found. We continued on, working our way up the ridge and spotting the canyon below.
Suddenly, does began scattering out of the draw below us. I knew that we hadn't spooked those deer, because after scattering, they stopped and began looking below them from where they had come. I quickly shifted my eyes to see what had spooked them.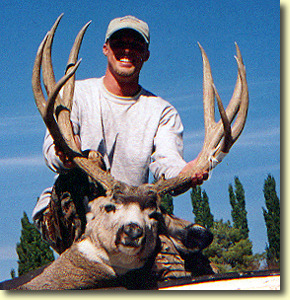 Stefan's buck is a 27 inch wide 4x5 and is 25 inches tall. He grossed 201 4/8and nets 187. The mass is incredible!
There he was, the big buck! I motioned to Bill, but he couldn't see the buck. I quickly took a rest and fired a shot at the buck. He slowed after the shot, then stopped and turned broadside. I fired another shot, and then Bill fired. The buck was still standing. I chambered another round and took a third shot. The buck dropped!
We waited several minutes, then began slowly walking towards the buck. Every so often I would stop and look at the buck through my binoculars to make certain he wasn't getting up. I could see a large, branch-like object projecting from the deer. I kept telling myself, "It's not an antler. He couldn't be that big--it must be sagebrush or something?" As I got closer, the deer got larger! As I neared the buck I began to scream and holler ecstatically, and eventually lost my voice. I had never been so excited in my life!
We later discovered that my second shot had clipped his heart and took out the lungs. My Remington model 700 30.06, topped with trophy bonded tips, had done its job. The buck went only a few feet after being hit.
My buck is a 27-inch wide 4x5 that is 25 inches tall. He has some heavy palmation on his G-2 and G-3 points, which really gives the buck some extra character. His neck was 25 inches and his tip-to-tip ear spread was 25 inches. He gross scores 201 4/8 and nets 187 B&C. He's a great public-land buck.
The events that led up to the harvest of the buck amaze me. It's neat to think of the possibilities. Had Bill and I hiked down the correct ridge, we may not have seen the buck. If we had arrived at the draw even 60 seconds later, he would have been over the top and out of site. The buck was only 4 1/2 years old. What would he have been like next year, or in his prime?
After nine scouting trips, a $295 permit, a $400 mount, and other costs, this deer ran up a high bill. But it was worth it!
I must thank my buddy, Dave Bunce, for the great hunt. Without him it would not have been possible. And foremost, I thank God for allowing me to harvest this awesome animal!
Written by Stefan White
Click-a-Pic ... Details & Bigger Photos
Click-a-Pic ... Details & Bigger Photos
Home | Hunting Forums | Photo Gallery | Hunting Articles | Videos

|


Hunts & Tags | Hunt Draw Odds | About Mule Deer | About Elk
Store | Classified Ads | Photo Tours | About this Site | Advertising

|


Older Content | Email Us | Privacy Policy | Links | Podcasts