"The Hunting Fever Is Back"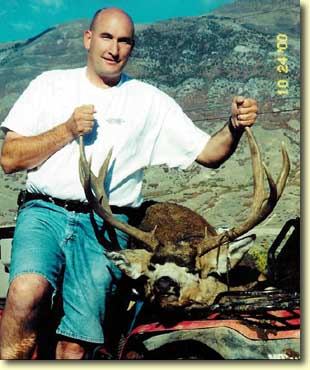 Steve's buck is a 28-1/2 inch 4x5.
It was only a few weeks prior to the 2000 Utah rifle hunt when my brother, Rick Leetham, and his friend Jack finally talked me into joining them on the hunt. Fortunately, the Utah northern region had gone undersubscribed, so getting a tag was easy. I would like to think they ask me to go along because of my wonderful company, but I think they really invited me because I own a camp trailer and have access to four-wheelers. I am also a great Dutch oven cook and enjoy cooking for everyone. I certain think that had something to do with it too!
Opening morning was cold and snow was falling, so I stayed in the trailer until it got light. I then road up and down the road on the four-wheeler, just looking, but saw few animals. I don't hunt on Sunday's, so I spent the day reading and watching movies. Yes, when I hunt the TV and VCR goes with! On Monday, I slept in again and cooked breakfast for the group when they returned from their hard morning hunt. After they left that evening, I loaded up all my gear and pulled my rig down to the main road. I had a headache and was ready to head home.
Before I was able to get away, my brother and his friend meet up with me and were able to talked me into going along with them on the evening hunt. I agreed, even though I didn't feel like doing much hunting. On the ride to the top of the mountain, I had a coke, so when we arrived I was ready for a nature walk.
I told the other guys that I was just going to walk down over the hill and then circle around and come back up to the truck. After finishing my business, I began walking back around the trail towards the truck. I had not walked far when I spotted a deer in front of me. I quickly saw that is was a buck, but had no idea how big it was, nor did I really care. I raised my old 30-06 Remington and fired and the buck went straight down.
I could not believe my eyes when I approached the deer. He was a big one! My brother was yelling down the hill trying to find out if it was me who had shot. I responded with a yes and told him come down and help me clean the buck because I wanted to have it mounted. He replied back that he had a jackrabbit I could mount it on. As he came into view, I raised the head. He broke into a run down the hill. It was the greatest high I think I have ever had. I even put in for a draw unit this year; I want to feel that high again!
Written by Steve Leetham
Click-a-Pic ... Details & Bigger Photos
Click-a-Pic ... Details & Bigger Photos
Home | Hunting Forums | Photo Gallery | Hunting Articles | Videos

|


Hunts & Tags | Hunt Draw Odds | About Mule Deer | About Elk
Store | Classified Ads | Photo Tours | About this Site | Advertising

|


Older Content | Email Us | Privacy Policy | Links | Podcasts