DREAM RAMS!
Written by Todd & Tina Peyser
WA STATE RECORD BLACKPOWDER CA BIGHORN SHEEP 161 7/8
Also was the World record CA bighorn for 1 year! Currently #2 at 161 2/8 in the Long Hunters.
Tina's ram is the 3rd largest for a woman in WA at 154 1/8.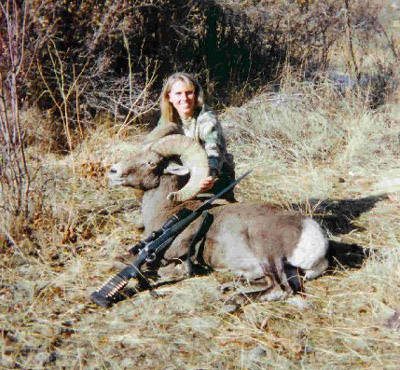 As usual, the hunting season begins early each year. In January, for those who apply out of state. These days it takes a long time to plan for hunting trips with all the preference points and different draw dates to keep track of. Therefore, my hunt started here in Washington around the middle of May 2003 when the new hunting regulations came out. The last 2 years my wife, Tina, and I put in as partners for Bighorn Sheep hoping to overcome the almost impossible drawing odds. We both had maximum points with 8 each and they only draw 3 tags. While anxiously awaiting the drawing deadline to near; a couple of weeks before the results were out, Tina said that she had a dream that she was drawn for Bighorn sheep! I thought that was great news because if she gets drawn then that means I get a tag also, since we were partners in the draw. Finally, the 1st of August came and the results were posted on the internet. I could hardly wait to see the results. I tried logging on to the web site, but it was busy with everyone trying to find out the results. Once logged on, I scrolled down through the results; Deer- unsuccessful, Elk- unsuccessful, Mt. Goat- unsuccessful, Moose- unsuccessful, and finally the Sheep SUCCESSFUL!!!!! What a dream come true! Literally!
Almost immediately I started gathering all the information that I could find about sheep. The best part was that we drew the late November Rut hunt and it was in my backyard. Being on several hunts with other successful hunters prior, I knew the sheep very well and also knew that they moved from their summer grounds to the breeding grounds near the Yakima River during our late hunt. I was also fortunate enough to own and operate my taxidermy business from my home, so I started scouting the entire month before our hunt opened. Tina would take care of any business coming in during the day. During the early evening, I would be back to work and would work late each night. Tina and I would also close up shop on certain days and go scouting together after our son Colton (7) and daughter Brooke (9) were on the school bus. We covered every inch of our units and had taken lots of pictures and video of over 40 different rams. By the time the season came around we had just about every ram named. About a week before the hunt opened, Tina had spotted a big ram that I hadn't seen before and she wanted to take this ram and I also wanted to take this ram, but she spotted it first. After careful spotting and watching, we determined it to be around 10 or 11 years old; we could count the rings through the spotting scope on 47 power! We also noticed a scar on its left side and it also had a small chunk out of its horn that looked like a small circle.
It was Halloween day and I was still undecided what ram I wanted out of about 5 that I thought were the biggest in our unit. That morning, Tina and I were driving the canyon road when I spotted a ram that was worth taking a closer look at. Once getting closer and taking lots of video and pictures to study later; I knew this ram was going to be on my list of 5 rams. With further study, I realized that this ram had a big chunk missing out of the back of his right horn that had a fracture line going almost around the entire horn. It looked like if he were to get in a fight with another ram that it would break completely off and this made me second guess myself on whether or not to shoot this ram. He was only about 6 years old, but had tremendous mass, a full curl and broomed on 1 side. There were only 3 more days until the opener and Tina and I had been keeping track of her ram since she knew this was the ram she wanted to harvest. Tina's ram would move about 1-3 miles from one day to the next, but we kept finding him in the same area with a ewe that was in heat. We also had figured out that everyday around 10 a.m., he would come down to the river for a drink of water.
November 3rd 2003 (opening day) finally approached and until the night before we didn't know what to do with the kids, since they had school. Tina suggested that we put them on the bus (8a.m.) and then go find her ram, which would give us about an hour before he came down to drink at the river bottom. Things couldn't have been more perfect. Tina had located her ram about 1 mile north of where we put him to bed the night before. Today he was all alone and was heading for the river bottom early, so we thought. After moving our setup a couple of times; Tina's father, Denny, who is an avid hunter, was along to videotape and help row across the river if Tina was successful. I felt confident in her shooting since she had practiced out to 600 yards with my 300 Win. Mag. with a 200 grain bullet with superior accuracy. I don't remember her ever missing even at the 600 yard gong!
There was another group of rams with a ewe that her ram met up with on his way to the river. We set up and started videotaping as the rams started to group up and push each other around and showing off their horns. I was trying to separate the rams in the spotting scope so that Tina could get ready to shoot, since they were only about 137 yards away in the range finder. The rams started butting heads and Tina's ram finally turned so that we could see his scar. Tina said that was him on the right and that she was ready to shoot when offered the right shooting angle. Tina's ram turned broadside and she squeezed the trigger. At the shot, her ram reared up and fell over sideways then tumbled down the hill. She had made the perfect one shot kill with a bullet to the heart. How exciting! As we gave high fives to each other, the other rams went about 40 yards up the hill and were standing around watching us. I thought about shooting one of the other rams with my muzzleloader, but decided against it since we already had our work cut out for us with Tina's ram. We launched the boat that my good friend Bruce Weigel had loaned us for the hunt and rowed across the river. We took lots of pictures and gutted her sheep so that we could take it back home to our shop for skinning. This took the rest of the day and part of the evening to skin and prep. the hide. Of course, the first thing that I did was to score her ram which ended up at 154 1/8 and was 10 ½ years old. Tina was giving me a bad time for not shooting one of the other rams; she said that I wanted to score hers first so that I could beat it!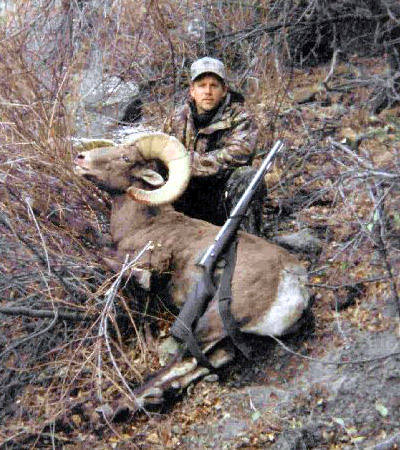 The next morning, I still hadn't made up my mind on which ram that I wanted to shoot. Early that morning we ran across the other lucky hunter that had drawn the only other tag in the unit and he had not been successful as of yet. I had pointed a nice ram out to him and watched him put a stalk on it, but he decided to pass. He also, like me, had not made up his mind on the ram he wanted either. Later that afternoon, after looking over 3 of the 5 rams that I liked, I still hadn't seen the Halloween day ram. Finally, I spotted him on a steep cliff over looking the river and heading in our direction. We watched as he bedded down next to a clump of sage brush about 400 yards above us; out of range for my .54 cal. Thompson/Center Arms Thunder Hawk muzzleloader using T/C 435 grain lead Maxi-Hunter bullets. I decided to pursue the ram alone since I needed to get as close as possible. So, Denny and Tina setup the video camera from below while I made my stalk up the steep rocky shoot to a vantage point that would be about 125 - 150 yards away. I would be shooting cross canyon and slightly up hill. After belly crawling inch by inch up to a small bush to rest my muzzleloader on; I peeked at the ram and at this angle the sage brush that he was lying next to covered the kill zone. Slowly scanning the area for a better location with none to be found, it turned into a waiting game.
I had ranged the distance at 127 yards and all I needed now was for the ram to stand up for a clear shot. I could have taken a neck shot, but would have taken a chance of hitting his horn which covered my target as he scanned the area. So I waited and waited. Soon I was running out of time (we had to pickup the kids from the bus) so I picked up a rock and rolled it down the hill; broke some sticks, waved my hat, whistled, and even yelled hey! But the ram would only look in my direction. This went on for quite some time; I could hear my father-in-law laughing below because I tried even barking like a dog to get him to finally stand up. Hey, it worked. Once he stood up, he looked very small in the peep sight, so I took my time. I wanted to make sure that I made my shot count. The ram started to move up hill and I almost had squeezed the trigger, but I hesitated for an instant and the ram was at a trot uphill. So, up I jumped and ran up the ridge as he made his way down into the draw between us and was heading my way. Due to the terrain, he had to cross above me, and when he did, I was offered an 85 yard broadside shot quartering away slightly. No time to think, I raised my muzzleloader and fired. After the smoke cleared, I could see the ram just going out of sight over the rocky bluffs above me and he didn't seem to be hurt.
The ram had run out of sight from below, so Denny and Tina ran around the corner to get a better look they thought! I quickly reloaded my muzzleloader (seemed like an eternity) and then began sneaking around the rocky bluffs. I soon spotted a group of sheep with 2 rams running over the opposite ridge; after a quick glance through my 8 power Leica binoculars I could see that my ram was not with them. While backtracking and gaining elevation I peeked around a rocky bluff and there only about 15 yards away lay my ram. He was bedded as if he had been untouched by my bullet and unaware of my presence. I carefully planned my options for the finishing shot, since he was laying with his rear end towards me with a very slight angle for shooting. The only way would be for me to climb on top of the small bluff between us to get a proper shooting angle. So, I slowly moved into position and took a bead on his right side near his back leg so that the bullet would pass all the way through to his vitals. Ka-boom!
I could see the ram jump up and run to my left through the cloud of smoke; I couldn't believe my eyes. Reloading as quickly as possible, I scanned the area, but couldn't find my ram. I quickly checked all escape routes around the cliffs to no avail. Backtracking to where he was laying down I found blood and it was good blood. Following the blood trail I soon found that my ram had jumped off of a 20-30 foot cliff and landed upside down in a tree. All that I could think about from that time on was that he had broken off his fractured horn that I mentioned earlier. I couldn't even look. I finally hollered at Tina and Denny that I got him! Working my way about 100 yards down hill around the cliffs and back up to my ram I finally had enough guts to pull him out of the tree and look at his horns. The chunk missing had a nice new chip missing, but the fracture held strong. What a Ram! I was so excited to show my wife and father-in-law. They arrived shortly after to help take pictures and congratulate me. Come to find out my 1st 85 yd shot was perfect in the boiler room also. One tough ram! We gutted my ram and started carrying him down the cliffs inch by inch, since I also wanted a life size mount. This was no easy task and took a long time since we couldn't drag or let him roll down the hill. We had to call a friend on the cell phone to pick up the kids for us.
After getting my ram home I couldn't put a tape on the horns fast enough. For only a 6 ½ yr old ram he had exceptional mass (14 ¼") for rams in my area with 34+" horn lengths and scored a whopping 161 7/8 for a CA Bighorn and I was later told by David Morris that he was not only the New Washington State Record, but the World Record CA Bighorn at 161 2/8 with a MUZZLELOADER!!! How awesome is that.
Click-a-Pic ... Details & Bigger Photos
Click-a-Pic ... Details & Bigger Photos
Home | Hunting Forums | Photo Gallery | Hunting Articles | Videos

|


Hunts & Tags | Hunt Draw Odds | About Mule Deer | About Elk
Store | Classified Ads | Photo Tours | About this Site | Advertising

|


Older Content | Email Us | Privacy Policy | Links | Podcasts