"The Memories Buck"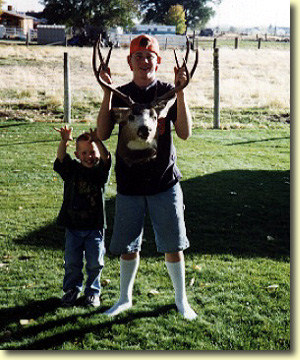 Tyler's 4x5 buck is 21-1/2 inches wide.
My hunt started on the morning of October 23, 1999, the opening day of the Utah rifle deer hunt. I had a paper route at the time, so my day started real early. My mom, dad and I got up at 4:00 a.m. to deliver all my newspapers. At 5:30 a.m., we were on our way to Morgan, Utah, where we would begin our hunt.
We arrived to our selected hunting spot at about 6:30 a.m. My dad had decided not to hunt that year because he thought we only needed one deer for the freezer, so he was going to help me find a buck. As it began getting light, we heard some noise in the tree's below us. It was nothing, just other hunter's. We continued further up the canyon, where we again ran into more hunters. This time they were on a four-wheeler, driving right up the trail in front of us. Of course we were upset! But what could we do?
After the four-wheeler went by, we moved to a nearby ridge to spot. Just as we topped out on the ridge, we caught a glimpse of some deer going over the next ridge. They didn't give us a chance to look them over, and I wanted to know if there was a buck in the group, so I was off. I ran down the hill and back up the hill they went over. As I reached the top, I again only caught a glimpse of the deer. I continued running after the deer; I don't know how I made it down the hill without falling. Up the other side I went, it was about 300 feet high. I was really determined to see those deer again.
As I reached the top, I saw them. They were about 300 yards away and a 100 yards from disappearing over the next ridge. I quickly positioned myself and began checking each deer one by one. Doe, Doe, Doe, Doe,--Big Buck! I was shocked. I couldn't believe what a great buck I was looking at. I didn't know exactly how many points he had, but I knew he had big antlers. I yelled to my dad, who had just topped the first hill I had gone over. I told him that it was a four-point, because I just thought he was that big. The only shot I had was at the bucks back as he climbed up the opposite slope. I was running out of time, so I decided to take a crack. The first shot missed, as did the second and third. I was really nervous to say the least. I had only one bullet left in my gun, and it had to count. I took aim and fired--CRACK! It sounded like someone had just been slapped on bare skin. The buck barreled down the hill and disappeared into the trees.
I hurried to where I had last seen the buck. There he was! The bullet had hit him just behind the front leg and exited the opposite side. I was so tired and exhausted from running up and down hills that I didn't even seem excited. I just sat there while other hunters made their way towards me to look at the buck. My dad finally made it to the hill just below me, where we gave each other the biggest hug. I was the happiest person in the world. We stopped at all my family and friends houses on the way home to show them my trophy.
My 4x5 buck is 21-1/2 inches wide. I had the buck mounted, so I'll never forget that great hunt with my dad.
Written by Tyler Hennessy
Click-a-Pic ... Details & Bigger Photos
Click-a-Pic ... Details & Bigger Photos
Home | Hunting Forums | Photo Gallery | Hunting Articles | Videos

|


Hunts & Tags | Hunt Draw Odds | About Mule Deer | About Elk
Store | Classified Ads | Photo Tours | About this Site | Advertising

|


Older Content | Email Us | Privacy Policy | Links | Podcasts