"A Buck of a Lifetime"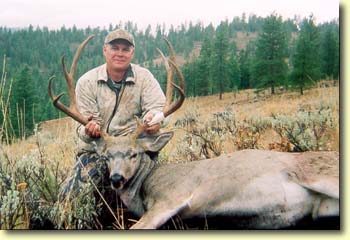 Dave's Idaho buck is 28 inches wide.
My cousin and long time hunting partner, Dave, and I were discussing the upcoming 2000 Deer Season. We were unsuccessful in drawing a tag for our favorite unit in Southwest Idaho, so we decided to hunt one of our "plan B" spots in Central Idaho. This area is a general hunt unit that we had hunted together since we were kids.
Dave and I have both killed decent 140 to 170 class bucks in the past, but never in this area. Although we had both seen nice big bucks in this unit in past years, the best buck either one of us had ever killed there was a small four point that Dave shot with a rifle. We decided that this was due to us trying to put meat on the table and shooting the first legal buck we saw. We had never had any trouble filling our deer tags before, but this year might be different. We decided to shoot only truly mature bucks this year, even if it meant finishing the season empty handed. We would hunt the archery season, which opened first, in September, then general rifle season in October. The big ones are hard to get close to, so we figured our best chance was with a rifle. It couldn't hurt to hunt archery though, and maybe we could locate a big one to come back for in rifle season. As it turned out, Dave's rifle will stay snuggled up in its padded case all fall. It won't be needed.
I made the two and a half hour drive to hunting camp on September 1st and Dave came up two days later to join me. The weather on this first trip was gloomy right from the start, and it rained almost the whole time either of us were up there. We hunted pretty hard, but by the time I had to leave, I had only seen a few does and a small buck. Dave, however, stayed for two days after I left.
When Dave got home he called to tell me he had hunted a new area a few miles from where we normally hunt. He said that he had found a ridge that looked promising. On the ridge he saw several bucks one of which was 24-inches wide, but could not get into bow range. We decided to go back up the following weekend and look around some more, as archery season was still open, and rifle season being less than a month away.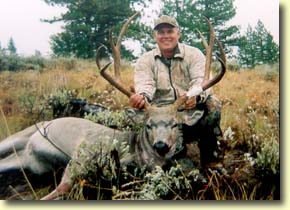 All we could manage was a one-day hunt on Sunday the 10th, because we had scheduled most of our vacation time for rifle season. I met Dave at his house at 3:30 a.m. and we hit the highway. I was eager to see this hotspot, and we couldn't stop talking about our upcoming two-week rifle hunt. This is the time of year that we live for. We were still chattering away as we pulled off the highway and onto the dirt road that leads into our area. It turns out that it was not altogether new, as Dave and I had hunted a nearby ridge about ten years earlier with some other hunting buddies. We hadn't hunted here for a long time because the old logging road that comes from our normal campsite had been closed.
We arrived at the spot before daylight and started to hike up to the top of the ridge Dave had found the previous week. I immediately understood why the deer liked this particular ridge. It was a very steep, long climb to the top, and I thought that maybe the deer were less pressured because of the lack of hunters willing to climb this hill. I was starting to speculate whether or not I really wanted to hike that hill every day for two weeks in rifle season. By the end of the day I would have no doubts.
We made the top of the ridge after about an hour hike, more than a little winded. On the way up, we saw a lot of fresh tracks, and as we neared the top, it started to rain. The top of the ridge looked just as Dave described, with several large clearings in the timber. It runs north and south, gently rising to the south, where it meets up with another ridge to form a saddle.
We knew that the deer would probably bed down until the rain stopped, so we would have to still hunt the timber and try to jump one out of his bed, or catch one napping. Dave and I split up, he would hunt parallel to the ridgeline, about 300 yards from the top on the side opposite to the side that we hiked up. I was hunting closer to the top. We were to meet up about a mile further along the ridge in the saddle. I snuck along stopping to look and listen every few yards. I had water dripping off the brim of my hat, and running down the back of my neck. I was really starting to wish that I hadn't left the outer shell of my hunting coat in the truck. It's not waterproof, but better than nothing. Mental note: bring rain gear even if it is mostly clear when leaving home.
I saw some big tracks, but with the rain, it was hard to tell with any accuracy how old they were. I hunted along quietly all the way to the saddle, but didn't see any deer. I waited for a while, and Dave finally came creeping up the hillside to join me back on top. He had seen some does on his walk, but no bucks. We ate our lunch, which turned out to be the only thing on either of us that was still dry. Ok, mostly dry. We ate under a cluster of trees out of the rain, then decided to hunt back down the ridge to where we had come up, only this time we would hunt the side closest to the road.
We hunted together back along the top of the ridge. It was still raining, so we had no trouble keeping quiet. Everything was so soggy, the normally brittle brush and twigs made no noise at all. By the time we were directly above the pickup, we were both ready to hike down to the truck and call it a day. I had seen plenty of good sign, including a fresh rub on a small pine, but still had not seen any deer. It was still pretty early, but we were both soaked. We agreed to hunt together back down to the truck, but we would take a different route than we came up, just to take in a little more of the scenery.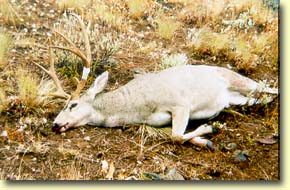 We were a little ways down the ridge, Dave up in front of me about twenty yards. Suddenly Dave stopped and signaled to me to stop walking. He was looking to his right so I peered in that direction. Through the sparse bushes I could see an outline of a gray body with massive antlers. I didn't have a shot but Dave was in a good position. The deer was lying down with his nose pointing the opposite direction. From where I was, I couldn't tell if the buck was facing us or facing away. Dave got out his laser range finder and got a yardage reading on the buck. He held his hand out with all five fingers extended to signal me that it was fifty yards. He decided to try a shot on the bedded buck. I watched through the brush as he drew back and shot. Oh no, he missed! The buck immediately jumped up and ran towards us. He seemed confused as to where the shot had come from, and stopped about fifteen yards from me. In retrospect, I believe that the buck was asleep with his head upright when Dave shot. He was still behind some brush, so I still didn't have a shot, but I could see him fairly well. He was huge! Big bodied with tall, wide antlers. He was looking in my direction, but I didn't move a muscle. Dave had enough time to nock another arrow, and the deer was a lot closer this time. He drew back, aimed, and touched the trigger on his release, hitting the buck right behind the front shoulder. In a flash, the buck whirled around and crashed up towards the top of the ridge.
We decided that since the buck was hit good, we would trail it immediately. We would normally wait a while, but blood trails have a way of disappearing in the rain. We found the arrow right away and followed the blood to top of the ridge where we found the deer laying dead in a clearing. It stopped raining about the time we found him. The sun really does exist, we couldn't see it, but I'm sure it was somewhere behind that faint glow in the clouds. The buck turned out to be a real trophy. It is 28 inches wide with 30-inch main beams. Dave was so excited that he could hardly talk. All he could say was "Buck of a lifetime". As I am writing this, the buck has not yet been scored. I judge him to be about 185 gross. When Dave finally came back down to planet earth, we took some pictures and got to work. As my dad always said, "After the shot, all the fun's over."
I guess that I'll have to find someone else to go with me in rifle season. I have a feeling that Dave is going to be sitting on the porch at the Taxidermist's, waiting for his "buck of a lifetime" to be done. As for me, I will be up there looking for this guy's brother, or uncle, or cousin, orů

Written by Zane Lathim


Click-a-Pic ... Details & Bigger Photos
Click-a-Pic ... Details & Bigger Photos
Home | Hunting Forums | Photo Gallery | Hunting Articles | Videos

|


Hunts & Tags | Hunt Draw Odds | About Mule Deer | About Elk
Store | Classified Ads | Photo Tours | About this Site | Advertising

|


Older Content | Email Us | Privacy Policy | Links | Podcasts