"Amazing Elk Hunting Fun for Codie"
Photo provided by: Codie Young
Here's a good hunt story. Codie Young (aka RVCAHunter) shared in our forum the following............
"Can't begin to tell you guys how much fun this hunt was! First of all I need to thanks friends and family who were able to come help on this hunt. I had one specific friend who put a lot of time and effort into helping me. Little back story. I was contacted 3 weeks prior to the hunt starting and offered the tag. I debated on taking the tag or waiting until next year to do a little more scouting. Turns out it's hard to turn down a hunt you have been waiting 12 years to draw. I decided that I would except the tag and just enjoy the time hunting. We went up to the the area my buddy had been scouting the evening before the hunt and I couldn't have been more excited. We started seeing bulls the second we arrived. Within the first 5 minutes we found the bull we took the trip out to hopefully kill.... what a monster!!! Turns out the bull was continuing to follow the same pattern he had been doing the week prior. I sat there and couldn't believe my eyes. We figured he would score between 360-370 (in my opinion a monster). We also spooked up a bull drinking out of a creek at 10 yards. Turns out this bull was shot on the archery hunt and wasn't getting around very easy. We watched him take off through the bottom and eventually work across the hill. Again a 340ish bull with a lot of mass!!
Opening morning we hiked up and got on the ridge waiting for the big bull to follow his usual pattern....no luck. We ended up seeing another 6x7 that we figured was around 340. Alot of the bulls we had seen the night before were nowhere to be found. We were right on the boarder of some private property and seemed they had all pushed over onto it. We had a long day of hiking and glassing with nothing but smaller bulls. Hiking right around 12 miles that first day. Next day we had the same game plan. Get up top and start glassing. Our spotter down low spotted what we thought was the hurt bull two canyons over from where we were the day prior. This country was thick and we were having a hard time getting eyes on him since he bedded down in the thick. We waited a little over an hour and decided to have one person start walking that way in hopes to pushing him up on the hillside. Sure enough, once he started walking, we saw a bull pop up on the opposite hill side. I pulled up the range finder...no luck couldn't get a range. I don't know if it was a glare or what but it wouldn't work. I looked through the spotting scope and to my surprise is was the big big 6x6 we had been after. I decided to get settled down and get the bull in the rifle scope. Without the exact range I decided I would take and educated guess and take a shot since he was starting to move. BOOM... bunch of dirt flew up right under him. At this point the bull turned and started heading up hill. I shot 3 more times, all of them hitting low. He ended up bumping up over the top onto the private property. I have never been so sick in my life. I had just missed a dream bull. After relaxing a bit I was just excited to see an animal that size and shot at him. Plus that just meant more hunting!! We ended up hiking another 10 or so miles that day up into some cool country. With all of my friends and family needing to leave the next morning, I decided that if we found a bull that night that I would shoot the last few days of the hunt I would shoot him. After all, having friends and family there is half the fun! That night we watched two bulls feed out at 650 yards across the ridge from us. The one bull had great main beams and was wide. I decided I was going to give it another shot. I found a rest, got my range, and dialed in the turret on the rifle. First shot went just over the top of his shoulder. I quickly adjusted and shot again. Wack! All three guys with spotting scopes said hit. It was a giant relief!! I was just as excited as shooting at the first bull. As we were hiking over there I couldn't have been happier to spend this moment with friends and family. He isn't the biggest bull we saw that's for sure, but I couldn't be happier!! Thanks for all the help of my friends!! Glad you could be there!"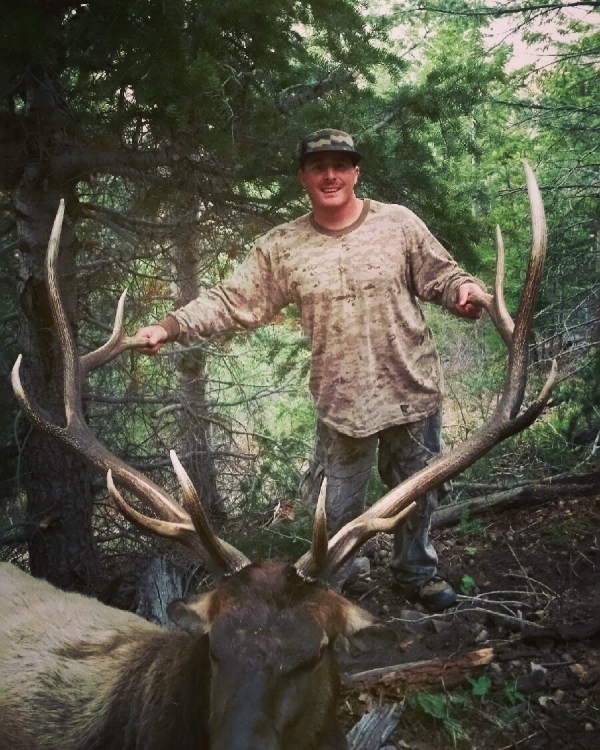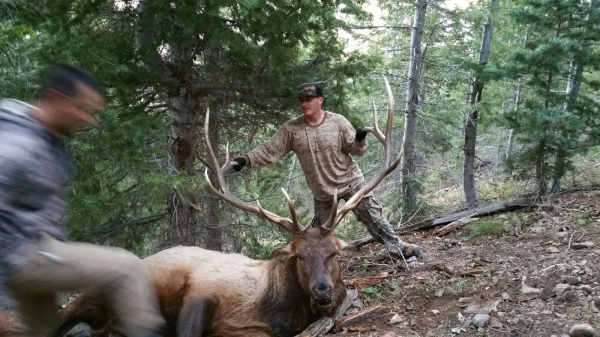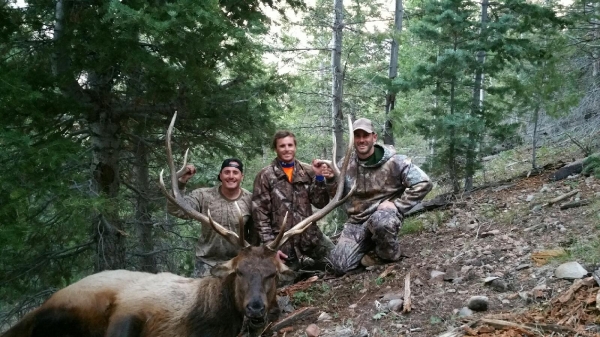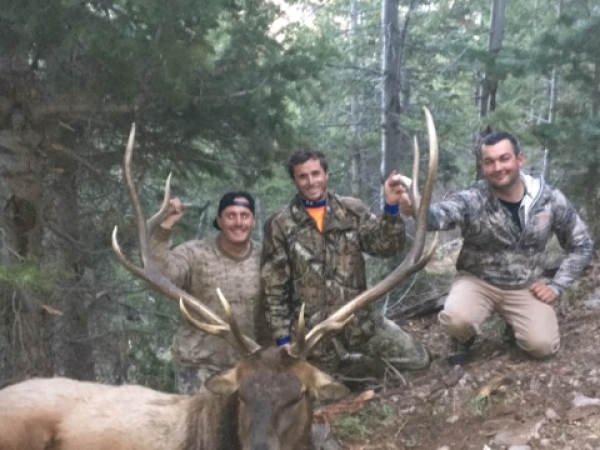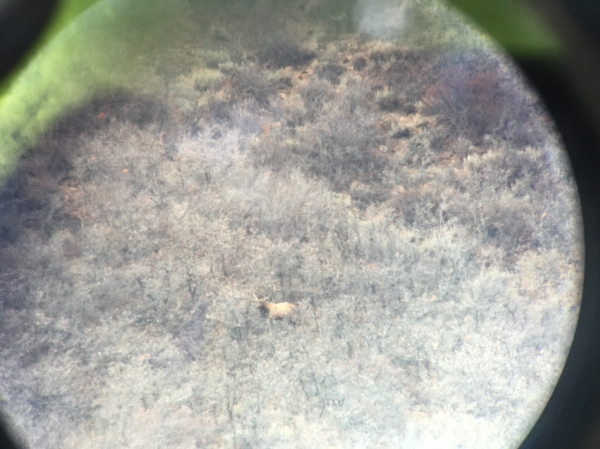 Click-a-Pic ... Details & Bigger Photos
Click-a-Pic ... Details & Bigger Photos
Home | Hunting Forums | Photo Gallery | Hunting Articles | Videos

|


Hunts & Tags | Hunt Draw Odds | About Mule Deer | About Elk
Store | Classified Ads | Photo Tours | About this Site | Advertising

|


Older Content | Email Us | Privacy Policy | Links | Podcasts