"Good Friends & Family Help = Great Bull Elk"
Photo provided by: Shane Rasmussen
Shane Rasmussen, aka schoolhousegrizz, shared these photos and his story in our forum.............
"So it all started out about a year ago. I asked for some help on where to put in for elk in Wyoming. A guy by the name of Bryon whom I met on this website sent me a PM. After talking to Bryon I decided to put in for the unit instead of wait 30 years for some of the top units or pay a guide to go into wilderness. Bryon went out of his way to help out and is truly one of the most genuine people I have ever met. My dad, daughter, and I drove out to the unit in August to have a look and meet Bryon. Soon September was here and it was time to archery hunt. The first day we saw a few small bulls. The second day we saw one dandy where I blew an opportunity. At night we got back to the tent and a bear had gotten into our stuff. The bear came into our camp when we were standing right there, I thought it was pretty cool. We went back out the next day and when we came back the bear had destroyed nearly everything including Bryon's new tent. We saw the bear a couple more times and just kept chasing him out of camp. Anyway, we left with no elk. We returned in late September and I got within 6 yards of a good bull but he was staring at me the whole time and I couldn't make it happen.
Fast forward to November. My dad brother and I showed up on Halloween night. Bryon helped us out once again. The first day was dead. The morning of the second day my brother and I walked down a draw and I saw 5 smaller bulls that I passed on. My dad and Bryon were waiting at the bottom of the draw to pick us up. They went back to the truck and standing right there were 2 bulls around 330 with about 20 cows. They took of, and by the time I saw them they were a mile away heading onto private. The next 3 days we only saw 5 bulls that were all rag horns. We left Wyoming without an elk again.
I had taken off a ton of work for hunting. I had been away from the wife and kids quite a bit. We have 2 brand new twin babies and 3 other kids, so I was concerned about my wife. Also, I had shot a good buck in my home state of Utah so I was feeling at least somewhat okay with the hunting season. I told my wife that I might be done with the hunt. She told me not to waste my tag and that the worst type of tag soup is regret soup! Yes, I know she is awesome! My New Year's resolution was to not have any regrets about my hunts, it is actually taped to the bedroom mirror. Deep down I wanted to head back to Wyoming for one last try anyway.
So I was already to go back to Wyoming with my friend Tyler who is a great hunter and a real good guy. I was a little down because my dad and brother couldn't make it. However, at the last second my dad called and said he was coming!
We met up with Bryon and hunted all day without seeing any elk or elk sign. Finally right before dark my dad and Bryon got us on the radios and told us they had some bulls spotted. Tyler and I hustled up to them. It was pretty funny how all of us were excited and in a panic to make it happen before it got dark.
Anyway I squeezed the trigger and the hunt was over. Bryon, Tyler, and my dad helped me get the bull out. It is not the biggest animal or even elk that I have shot, but for some reason I have never been happier to get an animal. I smiled for the rest of the night and couldn't stop. I was so glad my dad was there! Bryon, Tyler, and my brother were awesome and helped a ton."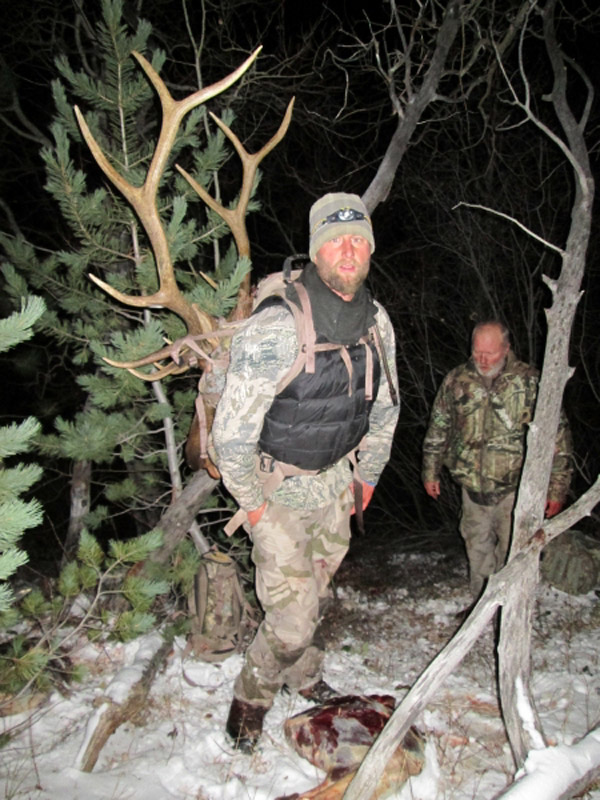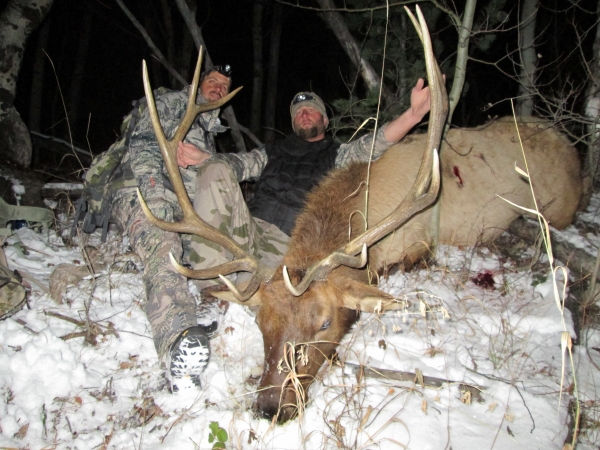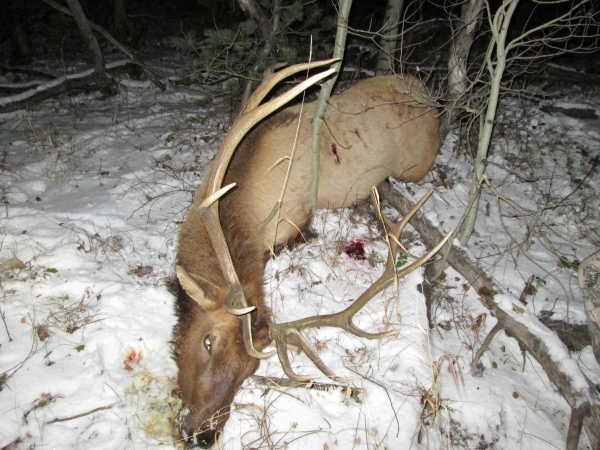 Click-a-Pic ... Details & Bigger Photos
Click-a-Pic ... Details & Bigger Photos
Home | Hunting Forums | Photo Gallery | Hunting Articles | Videos

|


Hunts & Tags | Hunt Draw Odds | About Mule Deer | About Elk
Store | Classified Ads | Photo Tours | About this Site | Advertising

|


Older Content | Email Us | Privacy Policy | Links | Podcasts