"Fine New Mexico Ram for Phil"
Photo provided by: Phil Green
Phil Green (aka philthy) shared in the forum...........
"NM Desert Sheep! - Hey everyone! I got home Sunday evening from my sheep hunt at White Sands and my butt is dragging. Two days climbing Gardner Peak was rough in the wind we had this weekend.
At the Tuesday evening briefing, we drew numbers and I got unit 4 (Gardner and Onate Peaks)which is the first year it's been hunted. It took until about lunchtime to find any sheep on opening day in Dead Man Canyon. A couple half curls (one at 304 yards on the same level as the truck!) and a full curl that was 500 yards from the truck. It may have gone 160, so we passed. Thursday was a non-hunting day because of secret squirrel stuff on the range.
Friday dawned with howling winds (seriously). Spotted one big guy way at the top of Gardner and another one on Onate, but both were a little too much to chase. Went back to Dead Man that afternoon and Jerome spotted 4 rams within a couple of minutes of stopping. 3 were really good, so we decided to put on a stalk and went 800 yards up a side canyon. Another few hundred up the hill for a 400 yard shot. Because of the wind I missed low and the ram we picked stated grazing again within a couple minutes! We went for broke and climbed a little more to get us within 300 yards compensated (334 actual). Jerome has 15x56 Swaros which are awesome! Almost a 3/4 facing away and I took the shot. Entered about halfway back on the ribs and exited just behind the far shoulder. 40 yards later, he wobbled and went down. We had to hurry up the hill to make sure he was anchored, took a couple pics and worked our way down the mountain to leave him for the next day.
Woke up Saturday to winds that were gusting 60 (they recorded a gust at San Augustine Pass near our camp that was 110 mph!) and it was absolutely brutal getting back up to him. After a few more pics, we decided to move him down to a wider shelf for skinning. While the sheep was being moved, it took out my best friend, sending him down the hill! Luckily, he only went 50 or so yards and stopped before going over a cliff. We spent that night at Mountain View hospital in Cruces getting him patched up. Broken left elbow, sprained right ankle and wrist, cut on his forehead requiring stitches. The really cool thing was the remaining 2 hunters called in on the radio and they were wanting to suspend their hunts to help get Ian off the mountain. We hunters truly are amazing people!
I got back to Aguirre Springs campground around midnight and my friend Mike Root met me at the gate since they lock it at 6. Picked up Ian at the hospital Sunday morning around 8, went to Walmart and got him some house shoes since his boots didn't fit, and went to Game and Fish. They sealed the horns (I got to pick the seal number and went with 0777 lol). My ram green scored 172 6/8, which is well above the B&C minimum of 168 for the lifetime book. This has to be THE most beautiful animal I've ever harvested and making the book just makes it that much more special!
I'm tired, beat up and need some rest before I take him to Imperial Taxidermy in the morning. This hunt is slowly sinking in and I'm sure I can add more later, but I wanted to share a quick thought with you guys."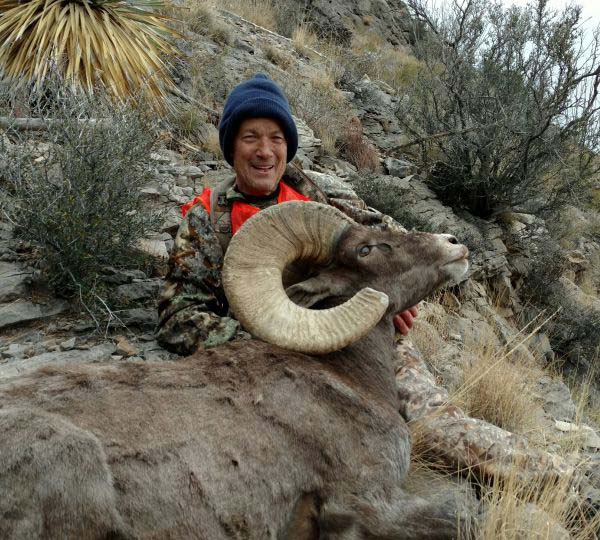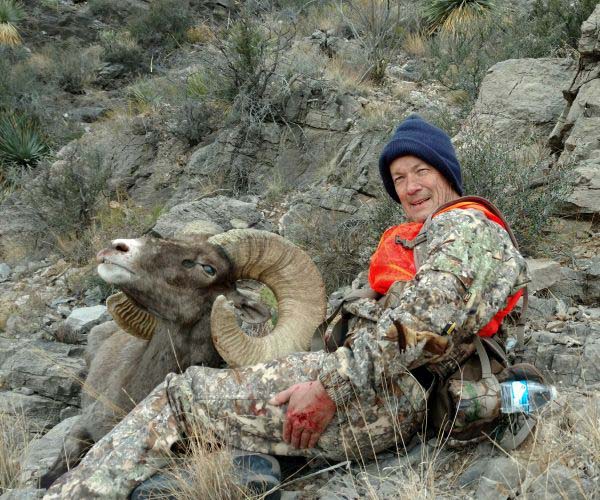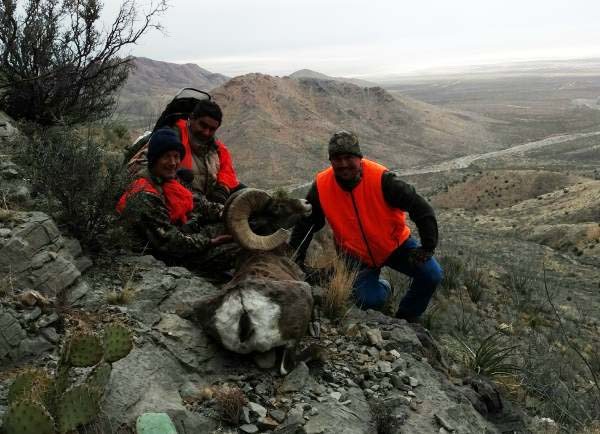 Click-a-Pic ... Details & Bigger Photos
Click-a-Pic ... Details & Bigger Photos
Home | Hunting Forums | Photo Gallery | Hunting Articles | Videos

|


Hunts & Tags | Hunt Draw Odds | About Mule Deer | About Elk
Store | Classified Ads | Photo Tours | About this Site | Advertising

|


Older Content | Email Us | Privacy Policy | Links | Podcasts