"Dan's Utah Extended Archery Trophy Buck"
Photo provided by: Dan Jordan
Dan Jordan (aka ElkManDan) had some fantastic success during Utah's extended archery hunt. He shared in the forum.........
"Cut It Close But Got It Done! - With the Utah archery extended season coming to a close, I decided to take Tuesday off and give it another go. I've spent about a dozen days up there looking for a good buck to shoot but had been unable to get in on a big one. Earlier in the month I found a really nice buck that had large hook cheaters off both G2s, I had gotten within 80 yards of him twice one day but hadn't been able to locate him after that.
Tuesday morning I headed up in the dark and just as first light hit I came out of a patch of brush and found myself 80 yards from a group of does. I sat to watch them and make sure there weren't any bucks with them, after about 10 min, I decided that there wasn't a buck and moved back and around them. I came over the ridge and spotted some deer on the opposite hillside about 200 yards away. I didn't need my binos to tell that one of them was a great buck. I sat to watch them to try and formulate a plan. The area I hunt consists of steep, rolling grassy hillsides and thick patches of oak brush... not exactly prime archery terrain. As I was watching them I also spotted a couple coyotes come up above the deer. They started howling and the deer decided they weren't going to stick around. They headed down the opposite hillside away from me. Just before they were going to head over the far ridge they decided to turn downhill and cut down and across the ridge I was on. I headed down the ridge as fast as I could but they had crossed in front of me and were already on the next ridge over about 300 yards away. Once they dropped over that ridge I hustled over there as quick as I could hoping to catch them within range as I popped over the ridge. I got to the ridge and slowly crept over. I caught movement going into the brush about 70 yards away so I just stopped and watched. Suddenly I heard a bow go off, I looked downhill to see another bow hunter about 70 yards from me. The buck and does headed up the hill, he was unscathed, the guy had missed. I don't know if he saw me or not but I dropped off the back of the hillside and busted it up the ridge just in case the buck headed up instead of around the hillside. I didn't see him up the hill so I decided that I was just going to head straight up the mountain a couple more miles and get away from other hunter and let him have his shot at the buck. I got about 3/4 of a mile up the mountain and stopped to look back. On the edge of an opening about a quarter mile away I saw a dark spot, I pulled up my binos and sure enough it was that buck again. I sat and watched him for a bit, I saw that same hunter step out onto the same ridge about 400 yards below the buck. I watched as he looked around for a bit, he glassed into the ravine for a while and then turned and walked back over the ridge. From where he was standing he could not see the buck. After watching him for a bit longer I could tell that he was going to stay in that area for a bit so I decided that I would drop back down there and try and make another move on him. I got within 10 yards but the only way to get to where he was, was to go through some thick brush. I tried to move through quietly but that was impossible. When I finally came out into the opening I caught him and a doe moving out on the opposite hillside about 100 yards away, going into thick brush. I decided it was now or never, when they disappeared into the thick brush I ran down onto the trail they went down. I quickly trailed them and after 100 yards I popped out into an opening out of the thick brush. He was there, I quickly got a range and took the shot. He went down quick and I put another arrow into him to finish him off. I never did see the other hunter again.... for all I know he might still be up there looking for this buck!"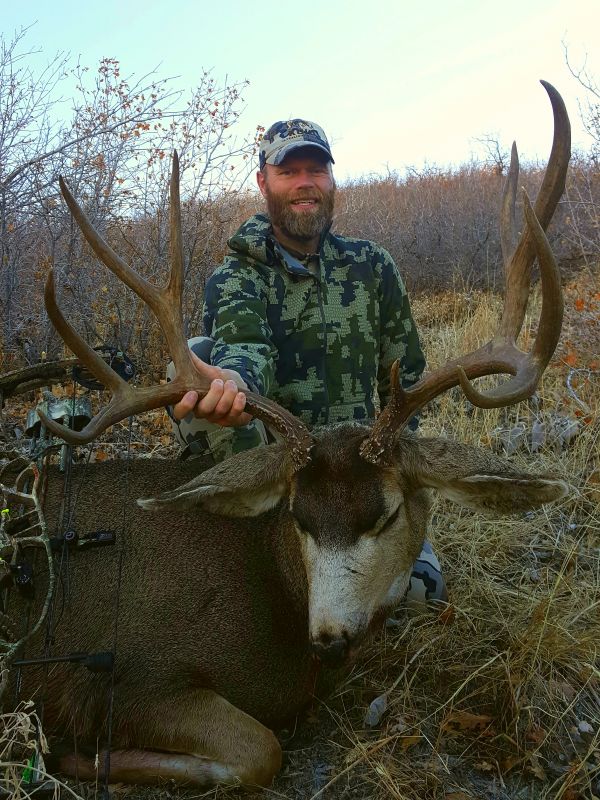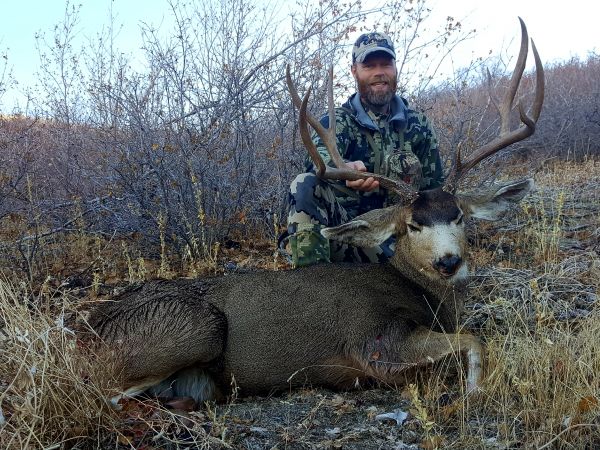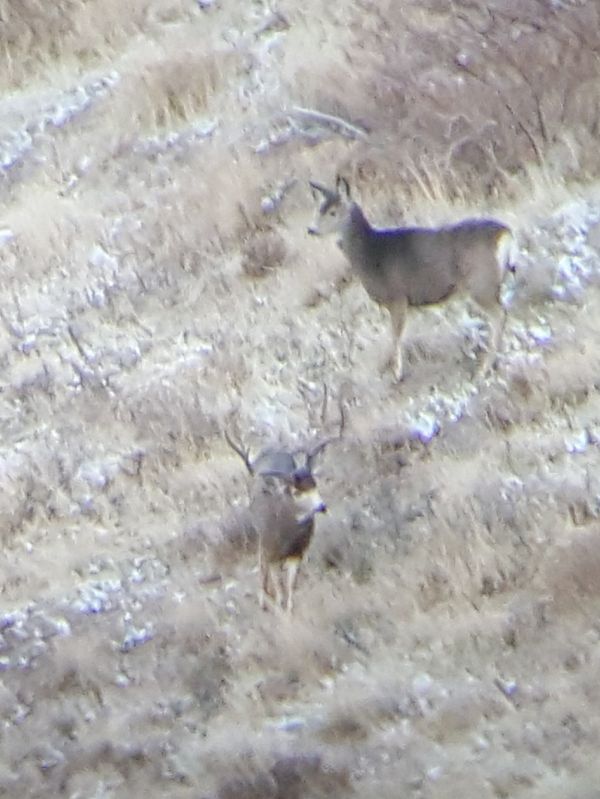 Click-a-Pic ... Details & Bigger Photos
Click-a-Pic ... Details & Bigger Photos
Home | Hunting Forums | Photo Gallery | Hunting Articles | Videos

|


Hunts & Tags | Hunt Draw Odds | About Mule Deer | About Elk
Store | Classified Ads | Photo Tours | About this Site | Advertising

|


Older Content | Email Us | Privacy Policy | Links | Podcasts