"The Fever ... Fantastic Muley Down"
Photo provided by: Clint Lish
Forum member, Clint Lish (aka liecabucks) knows how to get it done when it comes to anchoring trophy bucks. How about this beauty? He shared in the forum....
"The Fever - I caught a little buck fever last night as I put the glass on a dandy buck. The last few years Iíve been pretty concerned with looking a buck over and mentally assessing his quality as I see it. Itís been a minute since Iíve let my emotions ride and takeover. Well, thatís just what happened this go round. After 5 days straight of hunting, I was able to turn up a total of 3 quality bucks. The first was a gorgeous 185 inch typical but I didnít make a move. The second was a 28-30 inch heavy 4x4 that I didnít make it to in time as another hunter turned him up 10 minutes before my arrival but missed badly and sent the buck cruising. I sat down anyway and started my evening glassing. Just before I started to gather my things to leave I peaked over behind me to where the earlier hunter had wiffed.......sure as (heck), there was another buck. I threw up the binos and was instantly stoked at what I was looking at. I quickly ranged him at 340 yards but didnít have time to dope my scope so aimed at the top of his back and let the Ackley eat. The unmistakable thud of a solid hit echoed back as the buck went down. Little did I know the shot was low and it took out both shoulders at the bottom of his brisket. Long story short, I found him still alive after dark but wasnít willing to shoot in the dark. I went back at 11:00, giving him 4 hours to expire. I was sickened to hear crunching oakbrush as I neared. I once again backed out and returned to my wall tent, trying to fall asleep as I ran different scenarios through my head. My alarm rang but I had no need for it as I was already awaiting it.
First light found me working in on the last location of the crunching brush. I methodically made my way across the draw, glassing and listening every couple steps. I knew I was close! A few more steps and I caught a glimps of antler and a body bedded in the brush, it was him, dead so I thought! I got within 10 feet before he tried jumping to his feet on two nubs.....It made me sick that an animal could take that kind of trauma. I backed up and slung a final round into him. What a wild solo trip!"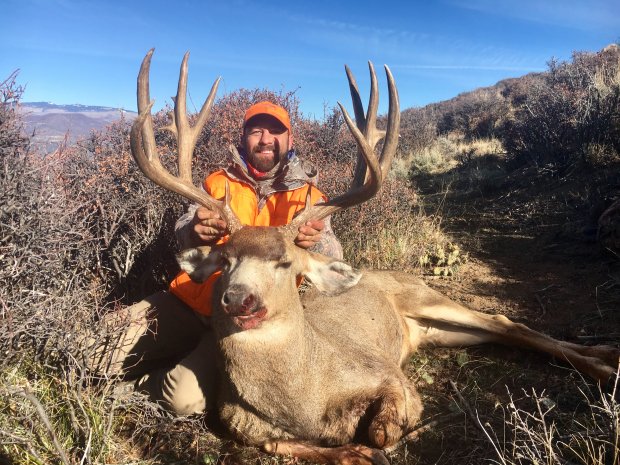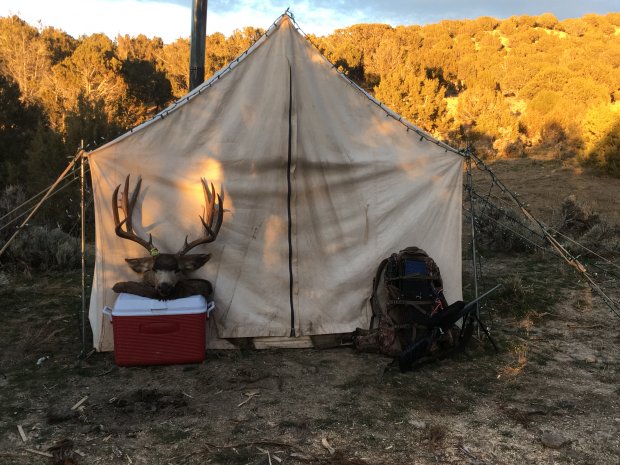 Click-a-Pic ... Details & Bigger Photos
Click-a-Pic ... Details & Bigger Photos
Home | Hunting Forums | Photo Gallery | Hunting Articles | Videos

|


Hunts & Tags | Hunt Draw Odds | About Mule Deer | About Elk
Store | Classified Ads | Photo Tours | About this Site | Advertising

|


Older Content | Email Us | Privacy Policy | Links | Podcasts