"Hard Hunting Produces Huge 6x5 Bull"
Photo provided by: Shad Holm
Shad Holm shared with us this fun and exciting hunting adventure....
"Crystal's hunt started the same as everyone elseís, with a credit card hit and a success email from the Utah DWR. The only difference is she had never put in for bull elk before. Up to this point she had harvested a forked horn deer and a cow elk. Since our family always hunts together I knew Iíd need some time off. Dustin, my brother, and Crystal's husband had harvested a good bull around 8 years prior. The hunt came way too quick and from the looks of it we were going to have four limited entry tags in our camp. This unit has been a very tough unit for several years now, but we have managed to take some good bulls. Last year during another family members hunt I left camp around noon to go get phone service. As I was on my phone I looked across the canyon and there was a great bull standing on the hill. We hunted that bull for four days only to leave him and harvest a different bull. When it was time for crystal's hunt we didnít do a lot of scouting because of busy schedules. We checked the area and sure enough the bull we stopped hunting was there again, but he had lost one point and regressed just a little. We still hunted him. On the second day we fought up to him and had a 300 yard shot, but Crystal was too nervous to get steady. We had several spotters watching him and found out where he had went. I made a mistake and followed him into his bed. We came around a tree at 30 feet to him laying asleep. As I motioned to her his eyes opened and looked right at me. He was gone like that and we never saw him again. I felt so bad because I figured I had ruined her shot at a decent bull. After not seeing him for a day and a half we all decided to go to different areas. I decided to go to an area I had hunted when I had my tag in 2008. I got a late start and it was a long drive away. I tried to talk myself out of going there several times. I kept planning on turning but for some reason I just kept driving that direction. Finally reaching the area I was still doubting the decision to drive that far. There were no vehicle tracks on the road and I was getting discouraged. As I turned up the road to go in, three great bucks ran across the road in front of me. As I drove up I decided to check the water for tracks. There were tracks and there were cameras everywhere. I got back in and finished driving in. As soon as I parked I spotted elk. After watching and glassing, a smaller six point started chasing the cows. He was rutting pretty heavy and running all over the hill chasing cows. He was the herd bull that had all the cows, or so I thought. I watched for a while and figured he was the only bull. I figured him to be 320. I had taken my camera down and was just about to start my Jeep when I heard a faint bugle in the distance. I put my glasses back up and the 320 bull had quit chasing and was just staring towards the bugle. It was getting dark quick and the bugle was still a ways out. Just as it was about too dark to see the 320 bull, he turned and ran. At the same time I watched the herd bull come over the ridge. Instantly I could tell he was a giant 6x5. I watched him and phone scoped him until I couldnít see. The drive back to camp was quick, not seeing anyone else and seeing a great bull on a unit that was on the decline had me pumped. We decided to hunt it the next morning.
The next morning the 320 bull was all we could turn up. I had to go back to work for a few days. They stayed and hunted going back to a few other spots. They tried to turn up the bull we had first chased with no luck. Thursday night I returned to hunt. I talked them into going back after the 6x5. We got in there and set up. My brother was at a vantage point. Crystal and I were in the Jeep so that when they found one we could get into position quick. Dustin started seeing deer and a few elk. I decided to run and check another spot real quick. As we pulled into the reseed there were several cows and a bull about 300 yards out. He was a 330ish bull and I tried to get her to shoot him. She was still holding out.
I was frustrated because I knew we were running out of time. We went back to the reseed my brother was watching and parked. It was getting late and I thought we were done. I decided to bugle and see if I could locate anything. As soon as I stopped I heard a reply. We didnít have much light left, so we took off almost running. We closed the distance pretty quick. There was a big group of trees we had to get through to get to the reseed on the other side. The bugles were getting closer. I stopped every once and a while to bugle and locate. I was trying to get to the edge off the trees to catch him coming through the reseed. When I got to the edge I bugled. Heís reply startled us. He had beat us through and was right behind us. I turned and could see his antler tips above the cedars. I didnít know what bull it was. There was a dead tree right by us that she got a dead rest on. I told her as soon as he hit the opening to be ready to shoot. He walked into the opening at about 75 feet. Not until that point did I know is was the 6x5. It seemed like an eternity. I kept saying shoot!! Shoot!! Shoot!! The bull turned to walk and she finally shot. Instantly I knew she missed. I bugled and I didnít know it then but he had stopped. We tracked him and didnít find any blood. Dustin showed up a few minutes later. She was devastated! We knew that he was gone and weíd probably never see him again!
During the night two of our group, Dustin and Ralph, had to leave because their work showed them having to go in the middle of the night. That left us with just my dad, Crystal, and I. I knew weíd never see him again but told them we needed to hunt the same place in the morning. I went to town and they went to camp. That was a rough night for Crystal. The next morning we set up the same. Dad was on the vantage point and Crystal and I were in the Jeep.
All we seen were deer. After just a bit I decided to look at the upper reseed. When we got in I started seeing cows. We came around the turn and I stopped to glass a hill. There were cows all over it. Instantly I could see three bulls. We were a ways away but the first bull I glassed was the 6x5. I slipped and said there he is but from then on I told her it was just a good bull. We took off on foot. We left the reseed and circled the elk. When we got to where we could see the hill I glassed and sure enough it was him. The setup was perfect. We snuck to about 200 yards crawling about the last 75 yards. He laid down in the middle of all the cows. We found a rest on a dead tree. Crystal got the gun up and ready and instantly started to shake. She was shaking so bad her teeth were chattering. I tried to calm her down but it wasnít working. After about five minutes I told her she needed to get her mind somewhere else. She finally calmed a little and the barrel quit going in circles. I put my hand on her shoulder to try and steady her. He started to bugle. BOOM!! The bull jumped up and whipped around. It looked like a miss. I told her to shoot again. He was standing there looking around not knowing what had just happened. As I was glassing him waiting for her to shoot again, I started to see blood roll down his side from the entrance. She had made a perfect shot. BOOM!! The second shot crumpled him in his tracks. Thatís when I started whooping and hollering!! The adrenaline rush made her black out, and it took about five minutes for her to be coherent. Then I told her she had shot the 6x5. When we walked up to him she couldnít believe how big he was. I called Dustin to tell him. I told him she got the big bull. He said no she didnít. I said yes she did. He said you mean she shot and your tracking it. I said no heís dead. He said (Are you sure heís dead)!! I said heís laying 200 yards away with his feet in the air! He started jumping around yelling!!! And they didnít end up working until that night. Heís been scored by three different people 375.5, 378, and 381. His fronts were 20" and fourths were 24". The 6 point side was 181" and his inside was 46.5. We figure he had 4" broken off."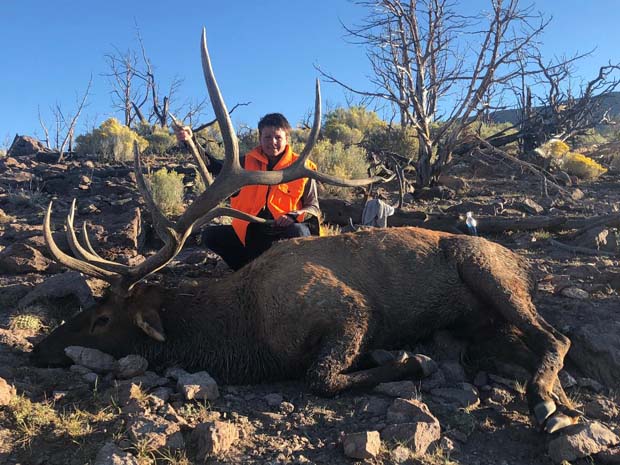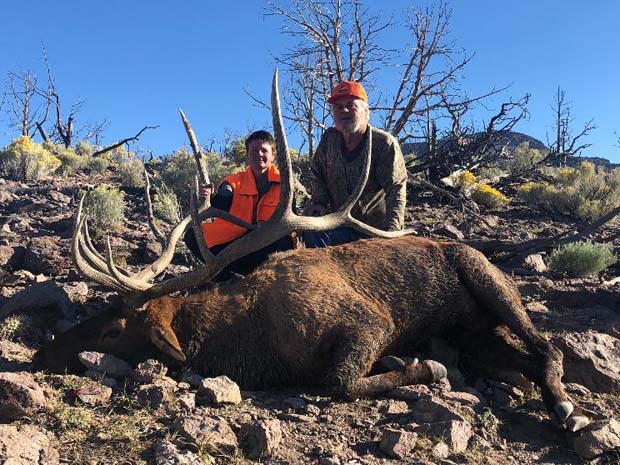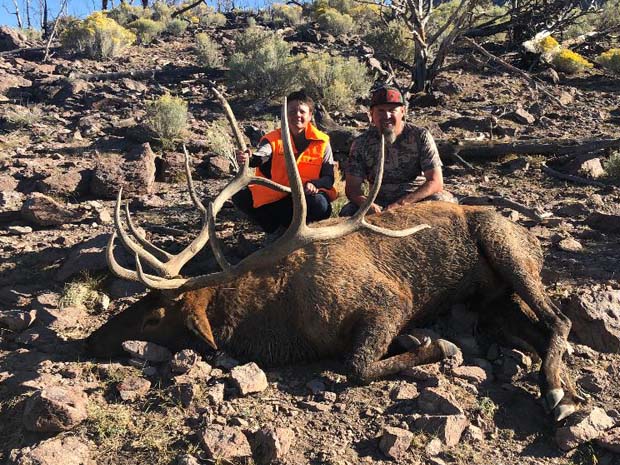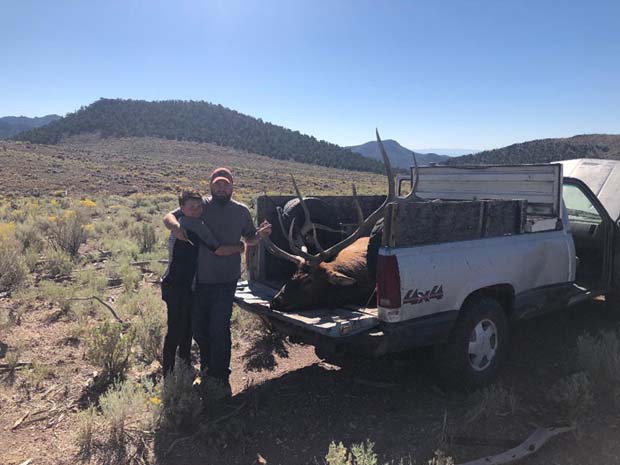 Click-a-Pic ... Details & Bigger Photos
Click-a-Pic ... Details & Bigger Photos
Home | Hunting Forums | Photo Gallery | Hunting Articles | Videos

|


Hunts & Tags | Hunt Draw Odds | About Mule Deer | About Elk
Store | Classified Ads | Photo Tours | About this Site | Advertising

|


Older Content | Email Us | Privacy Policy | Links | Podcasts