"Chris' Nevada Elk Hunting Adventure"
Photo provided by: Chris Newman
Chris Newman (aka wrenchN86 shared his fun Nevada elk hunting adventure in the forum. Enjoy.....
"My First Nevada Bull - My wife and I both drew mid season bull tags. Trip started out late Friday night not getting into camp till close to 11pm. Saturday and Sunday we hunted a burn area (BuckNRut I can not thank you enough for the info) and spotted 13 bulls in 2 days. Unfortunately we couldn't put it all together for my wife. She had to leave Monday to be back at work Tuesday, we saw no bulls Monday before she left. Went to another area in the afternoon after we got her on the road back home, again no bulls. By the way all 3 days we saw AWESOME bucks gathering does up. One group of deer were circling around my pickup on Saturday when I hiked back to it, felt like I was in a Randy Newberg hunt. Tuesday morning was the hardest for me to get up. I was drained from the weekend. But got my butt out of bed and went to the trail head from previous afternoon. We have killed out of this canyon previously, so I figured we'd give it a shot. Drug my butt in the canyon, by drag I mean I DID NOT want to be there lol. About 2 miles in I thought I was going to die, so stopped hiking and after catching my heart I started glassing. Happened to catch a blonde butt sticking out of the mahogany's, and whispered to my buddy next to me got elk! Barely could catch him with the vortex spotter before he disappeared into the trees, and saw one side was a 6. Decided lets go see him, but further up the canyon revealed he was tucked away nicely. Hiked about another half mile in and got the wild hair to go straight up the mountain. Basically climb up this mountain on our hands and knees so steep, just to maybe see if we could get a look at him. Took us a long time to get about 3/4 of the way up to a little shelf before final climb to top. Before I could catch my breath on the shelf we heard branches cracking, and out comes my bull about 100 yards in front of us into a clearing. We instantly froze as he starred right at us, he turned to zig zag up and my buddy grabbed my rifle from my pack, threw his pack off in front of me and handed me my gun. I instantly dropped in the prone and found him in my scope. Shot him 4 times in the first opening, watched him walk into trees and lie down. Thought we were on our way home, then my buddy yells he's up he's up. Tore off my pack and dug for my other rounds, was able to reload my gun and get back on him to put 2 more in him before he flopped over. I have never felt the feeling I felt watching that bull in my scope go down! Took everything I had mentally and Physically to go in on Tuesday and put it all together, and it paid off!! Never forget that sound of him coming out of the trees. Heavy packs make for good friends, thank you again Justin!"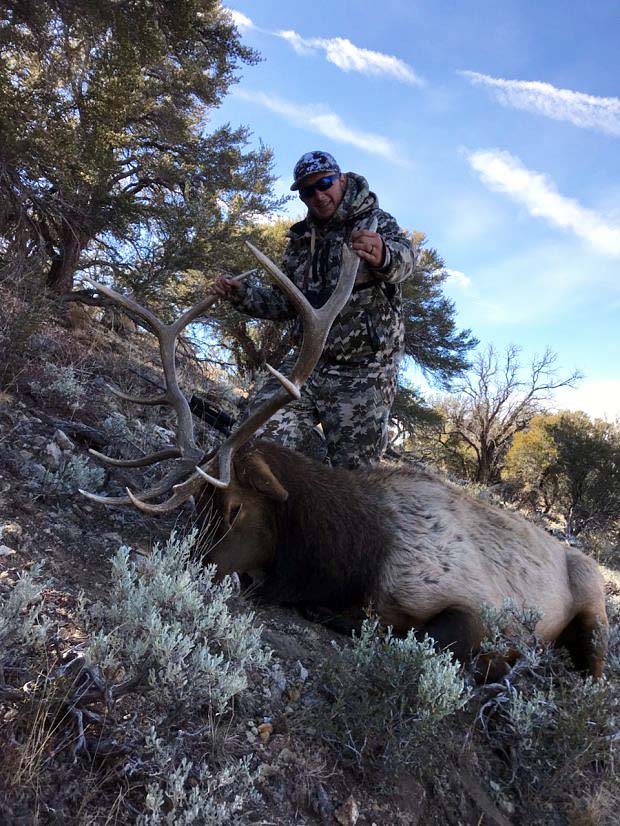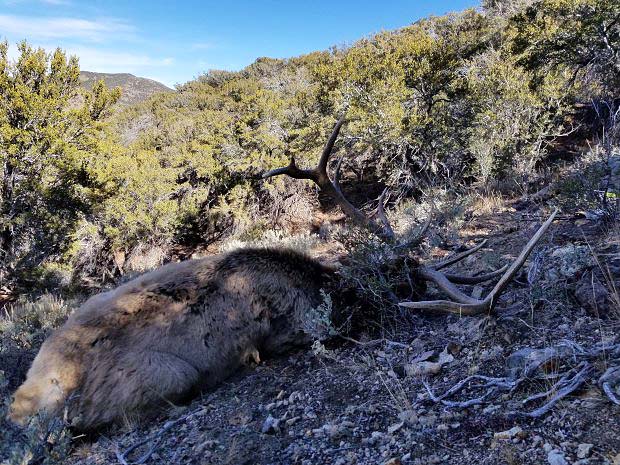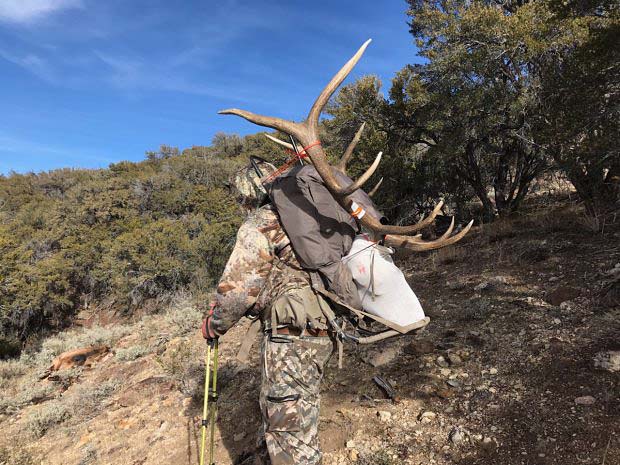 Click-a-Pic ... Details & Bigger Photos
Click-a-Pic ... Details & Bigger Photos
Home | Hunting Forums | Photo Gallery | Hunting Articles | Videos

|


Hunts & Tags | Hunt Draw Odds | About Mule Deer | About Elk
Store | Classified Ads | Photo Tours | About this Site | Advertising

|


Older Content | Email Us | Privacy Policy | Links | Podcasts