"Heavy Colorado Muley for Cory"
Photo provided by: Cory Kohutek
Cory Kohutek (aka muleymaddness) shared in the forum the following.....
"Colorado Mule Deer - Well, I've finally had time to get home, unpack, and regroup after the Thanksgiving holiday.
I put in for this area and knew pretty much that I was going to draw the tag. I've had a lot of work distractions going on this year, so other than getting my onX maps downloaded and paper maps printed, I really didn't do much for this hunt. I did stay in shape physically, but I didn't even get to shoot my rifle in the off season as much as I usually do. But someone was watching over me and made it all come together as if it was meticulously planned out.
My dad always said he wanted to come out of state hunting with me, but never has until this year. He can't get around all that well, but he did surprise me. We got to the unit early and scouted 2 days prior.
Opening day, about 2:30 in the afternoon, we spot this deer from afar bedded with a group of doe. The sun was shining off his horns and once you found him, you couldn't miss him. We judged him long enough to know he was a shooter, and began to develop a plan to get in on him. My dad ask "do you want me to stay here with the binoculars"? I don't think he wanted to hold me back. I said "no, you're coming with me". We made a plan to get up above him and come down on him so I could get in a prone position and make a good shot. We made our way around and pop up above him. I scooted up to the edge of the rim and looked down for him and couldn't locate him, but did locate his doe. I ranged and they're 400 yards, but looked much farther due to the steep downhill angle I guess. I saw that there was a knob closer, so I backed out and made my way around to the next knob over. Again, I scooted out to the edge and tried to locate the deer. I saw his doe, but not him. I got the bino's set up on the tripod and instantly found the deer. He was bedded with his head and chin laying on the ground, but I could see the back fork up above the sage in the sun. I ranged and they were at 300. It still looked further than that, but that's what I had to work with. I was about to inch up to the rim and see how solid I could get when I forgot - his doe up on the hill bust me! They took off running and I hurriedly to lay down and tried to locate the deer. I couldn't find him and they were gone. We backed out and worked to the bowl that they just slipped off to. I was about 40 yards from being able to look into the bowl where I expected them when I saw 2 doe working up the opposite ridge. I instantly knew he'd be with them. I ranged the doe and laid down for the shot. As soon as I got behind my rifle, there he was working up the hill about to give us the slip again. I tried and whistle but my mouth was cotton dry and I couldn't do it. I remember watching him through the scope, slipping in and out of the sage. I was about to let it go as he was slowly walking (he was only 200 yards), when I finally muscled up some kind of crazy noise. He stopped and I hammered him. I could see the impact through my scope and knew it was a good hit. I turned around and my dad was probably 15 yards behind me, watching it all through the binoculars. The deer fell on a very steep hillside, but we managed to get him quartered and packed up and out. Not the biggest deer out there, but I was glad to get it done given the circumstances and my dad with me."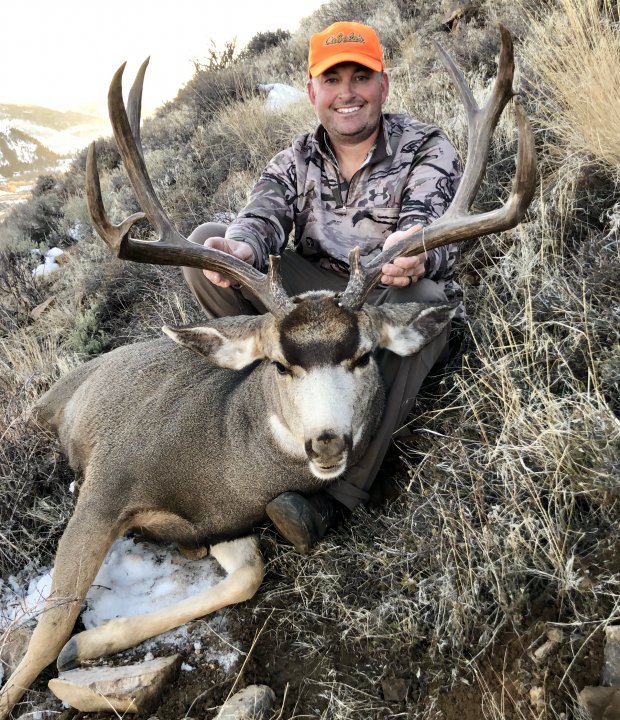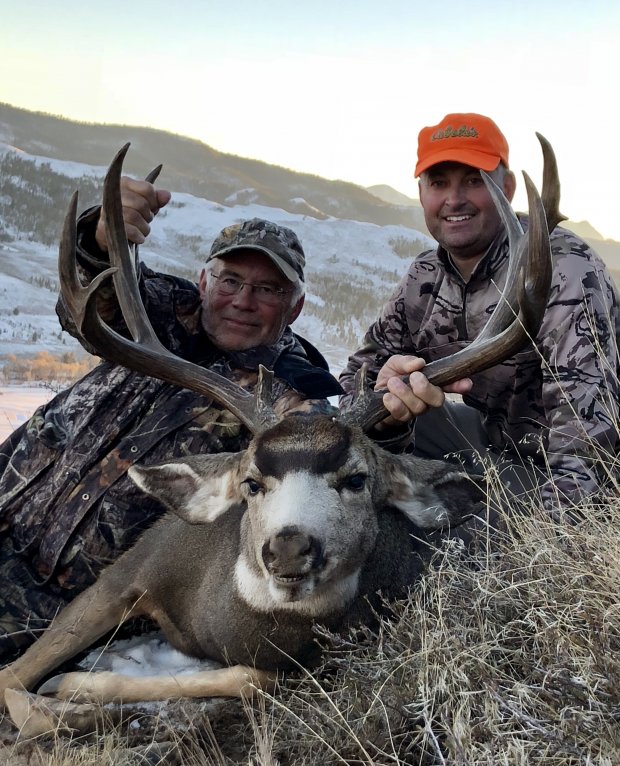 Click-a-Pic ... Details & Bigger Photos
Click-a-Pic ... Details & Bigger Photos
Home | Hunting Forums | Photo Gallery | Hunting Articles | Videos

|


Hunts & Tags | Hunt Draw Odds | About Mule Deer | About Elk
Store | Classified Ads | Photo Tours | About this Site | Advertising

|


Older Content | Email Us | Privacy Policy | Links | Podcasts