"Cole's Bowhunting Muley Success"
Photo provided by: Todd Lauvray
Todd Lauvray writes, "We are a military family and our assignment to New Mexico's White Sands Missile Range has provided our family with some awesome hunting experiences in just the last few years. Between our 4 boys and myself (aka Dad), we have been blessed with harvesting nine animals over the last 3 years.
However, this story is about my middle son Cole and his Mule Deer Archery Hunt. In our "Hunting Family" we have a certain way of telling "Hunting Stories". All of our "Hunting Stories" begin with "So, there I/we was/were". Let's get this story going......
So, there we were, my middle son Cole and myself scouting and setting cameras and treestands in hopes of my boy getting to harvest his first animal with his Diamond Infinite Edge Pro Bow. We spent many days driving back and forth from home to our hunting area investing large amounts of time and effort to identify the best area for my son to have the highest odds of getting to draw back on a buck. After numerous photos and miles of walking, we settled in on to hunt this tiny un-named water tank tuck up in a canyon. The tank was maybe only about 10-15 feet across and about 12 inches deep. However the amount of tracks and photos we identifed/received of both Mule Deer and Elk was staggering around this tiny little tank. We had a lot of buck photos with several does. Each photo usually had 10-20 deer in the frame.
About one week out from the hunt, my son and I are getting really excited to leave for the hunt. My son had spent a ton of time honing his skills with the bow. He was to the point that he was hitting bullseyes at 65 yards. During this time we also made the last minute preparations loading the camper and gear. We then pulled the camper and parked it in "our spot" ready for the season.
Two days before the January opening day of his hunt, we jumped in the truck and headed off for hunting camp. The hunt started off a little rocky at this point. Our friend who was supposed to go with us had work related stuff interfere, and upon arriving to hunting camp, we discovered it had been a lot colder than we anticipated and busted water lines in the camper. So, no showers or water from the tap now. We also discovered the tiny tank we planned on hunting was bone dry and no longer had much activity. Regardless we continued getting ready for the first day of my son's hunt.
Opening day arrived and we headed for the stand before daylight. Our new plan was to ride the ATV about one mile up the same canyon and then walk the last half to three quarters of a mile to a larger tank just below the tiny tank. This tank had a lot of water, however it was covered in cattle tracks. The cattle activity made it extremely hard to see if deer was using the tank. Once in our treestands we sat and waited. Day one started off really cold but turned into a beautiful day. However, we saw almost everything but Mule Deer. Day two we gave the stands another try only to be busted by a really nice 6x6 Muley looking dead at us as we were walking up the path to the stands.
Day three we decided to let the stands stay empty and try a little spot and stalking. We located a big 4x4 Muley at about 800 yards on the opposite side of a valley and made our move to close the distance. We went up a draw and was within 200 yards when the wind shifted a little. My son went back down and was supposed to work his way around the deer to get out of the wind. However, like most teenage boys he didn't listen very well and still popped up above a ridge ith the wind blowing his scent straight to the deer. All I could do is sit and watch as there noses went up and they located the direction he was coming. Once he crested the top, the deer left with no intentions of going slowly. We then re-grouped and went down the road to glass another area. On the way back, we spotted another good size buck about 50 yards from the road as we traveled on the ATV. I stopped about 200 yards down the road and my son tried to close the distance. However, he could only get to about 75 yards and they would not let him get any closer. So Day three ended up a bust.
Day four "Success Day" finally arrived. We decided we were going to give the stands a try again. The only difference this time was we were going to wait until daylight in hopes that we won't bump or spook the deer out of the area. We rode the ATV up to the parking spot before light and then we sat and waited for the sun. The wait was extremely cold and felt like it was taking forever for the sun to come up. However, the sun came and we walked to the stands and climbed the trees. We had not even been in the tree 5 minutes and I located movement in the woods about 150 yards away. That movement ended up being elk. We had two calves and two Bulls coming to the tanks. The calves immediately went to the frozen edge of the water and bork the ice with their hooves. At 40 yards it sounded like they were right beside us when they drank the water. The two Bulls (a 5x5 and a 6x6) never committed to the tank. They definitely knew something was not quite right. However, they did hang around for about an hour. Once the bulls left, I spotted this lone young buck who by the looks of his headgear appeared to have been in a pretty good fight. This young buck then started heading straight don the hill to "our tank". I sat their in my treestand waiting for my son (sitting 6 yards away in a tree) to spot the young buck. At 40-50 yards, I began to get nervous that Cole would not see the buck before he saw Cole. Finally at 35 yards Cole stood. At 25 yards Cole atempted to draw and the Buck froze. I was sure the deer was getting ready to leave in a hurry. However, the Buck must have been really thirsty because he started moving to the waters edge and at 21 yards my son finally drew his bow. The next thing I hear and then see is the the release and smack of my sons Gold Tip Hunter XT with a Slick Trick Broadhead make the distinct sound of piercing a deer. The Buck jumped four feet in the air, kicked his hind legs and bolted out of the tank until about 75 yards. There the buck staggered and fell. I videoed the retrieval and then the pictures started for a short period of time. Upon field dressing the buck we discovered that Cold had mad a perfect pass thru heart shot. To say I was and am a very proud dad is an understatement. There is nothing like witnessing your children getting their first harvest with Archery equipment. So, there we were and that is the end of our story. Thanks for listening and good luck to you all!"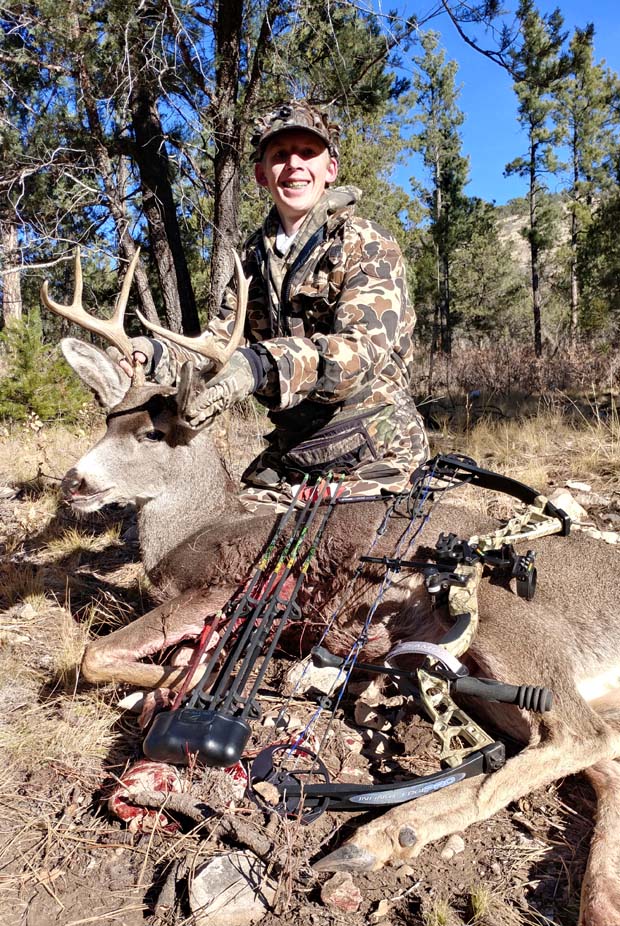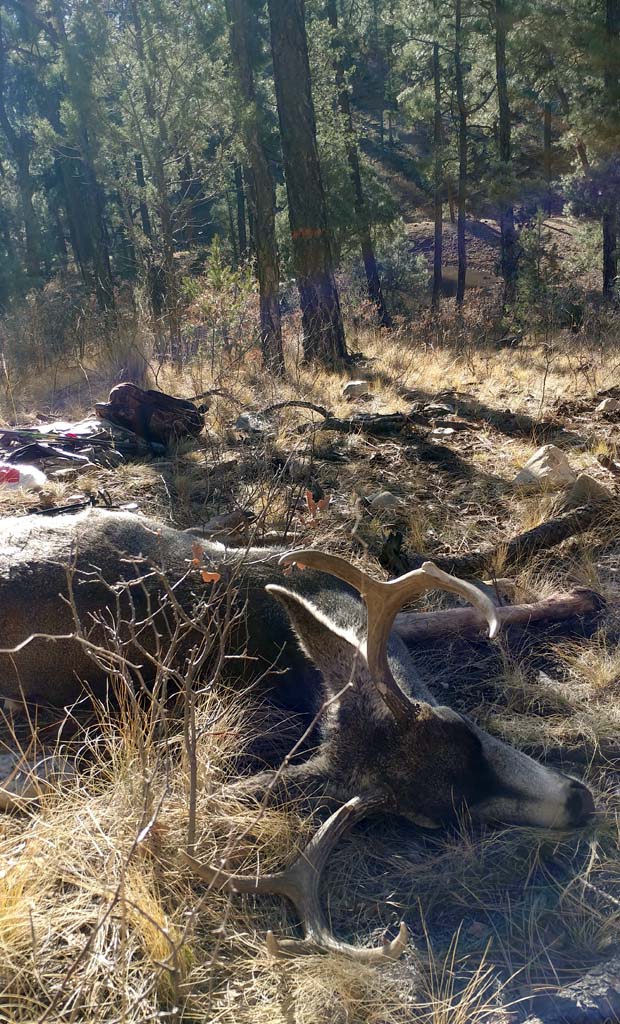 Click-a-Pic ... Details & Bigger Photos
Click-a-Pic ... Details & Bigger Photos
Home | Hunting Forums | Photo Gallery | Hunting Articles | Videos

|


Hunts & Tags | Hunt Draw Odds | About Mule Deer | About Elk
Store | Classified Ads | Photo Tours | About this Site | Advertising

|


Older Content | Email Us | Privacy Policy | Links | Podcasts