"Longhorned Trophy Pronghorn for Taiya"
Photo provided by: Nathan DeRose
Nathan DeRose (aka snoodafruff) is a proud dad and shared the following in the forum....
"Daughters Snake Valley Antelope - I wanted to give an update of my daughters hunt. Sunday she was successful in taking her first big game animal. It was incredible!!....such a fantastic hunt for her. She is tickled with her buck and I couldn't be happier for and prouder of her. She rose up in her moment of truth, kept her composure, killed quick and clean, & most importantly, was safe with her weapon.
We scouted up several good bucks leading up to her hunt with 2 in particular that stood out to us. One of them is in my previous post in the antelope section, but I wasn't able to get pics/video of the other one. We nick named him Mr. high & wide. We had high hopes Sunday of catching up with again as they were together with a dozen or so does. Honestly I was having my doubts because we had to miss opening day. But to our good fortune, they were right in the same area not 200 yards from where we saw them the week before opener. When they saw the truck they wasted no time heading out, so we hauled ass around & above them, bailed out of the truck & ran up the hill as fast as we could, hoping they would feed their way to us. The plan worked & just a few minutes after we topped out, they were coming right to us with Mr. high & wide leading the way. He stopped 100 yards out & I told Taiya where to hold. She shot & he dropped right there. After a few minutes we headed towards the buck. When we topped out he was lying right below us, still alive. He got up & hobbled away. He could barely walk so she set up for another shot. He stopped & she shot twice missing him. He started walking away but was really having trouble. By now she was totally jacked up, so we settled down, & set up again. By now he was 300 out. I ranged him & told her where to hold. By then she had calmed down a bit & we had her sitting down with the bi-pod down so she had a good solid rest. I whispered in her ear to relax, breathe, hold, & sqeeeeeeze.....a moment later, boom, thwack, & down for good!! Way to go Taiya....yahoo!! At that point her emotions took over & she was hootin & hollerin with joy & excitement. I LOVED being part of it all. We killed Mr. high & wide.....one of our top 2 bucks we were after???? Incidentally I scored him at 72 4/8" with one of his prongs half broke off & a 1/2-1" of his hook broke as well. Still a solid, mature buck with some "wow" character."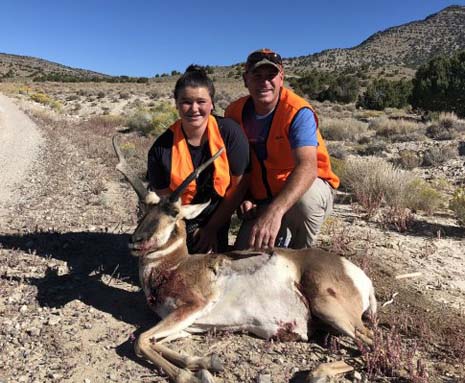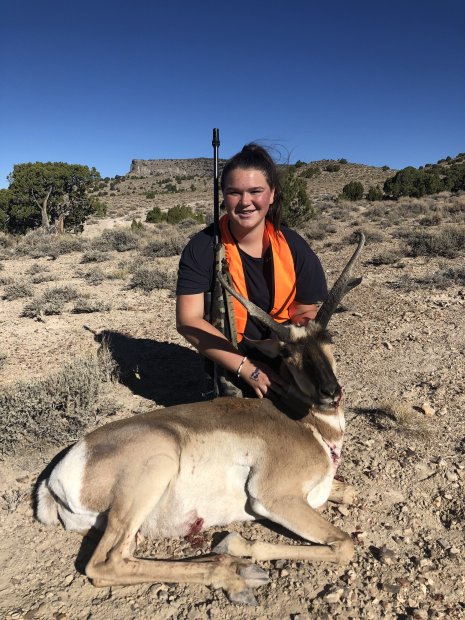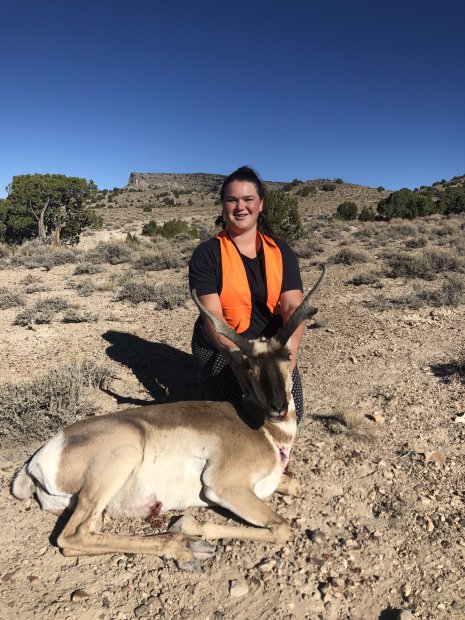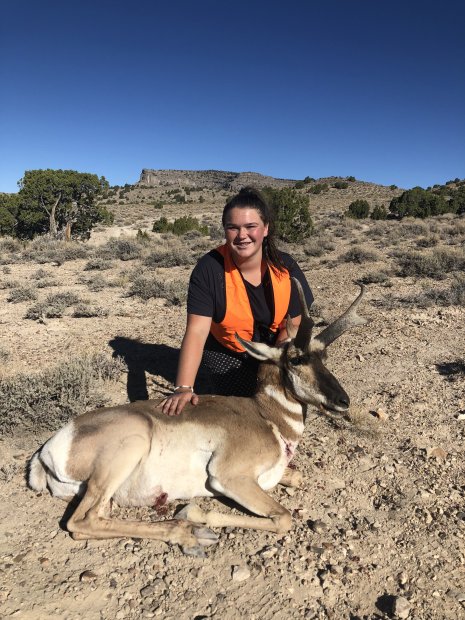 Click-a-Pic ... Details & Bigger Photos
Click-a-Pic ... Details & Bigger Photos
Home | Hunting Forums | Photo Gallery | Hunting Articles | Videos

|


Hunts & Tags | Hunt Draw Odds | About Mule Deer | About Elk
Store | Classified Ads | Photo Tours | About this Site | Advertising

|


Older Content | Email Us | Privacy Policy | Links | Podcasts