"Jesse's Exciting Muley Pursuit"
Photo provided by: Jesse Montoya
Jesse Montoya writes, "Utah 2019 solo public land general season hunt. On the second mourning of the hunt, I spotted this buck with six doe's at first light. Even better, they had no idea I was there. Perfect! I chambered a round, set up and made an attempt at a clear shot. Roughly 500 yards. As luck would have it. I CHOKED!!! They scattered. Buck fever had set in. I went after him desperately hoping for another shot. As I made it to where I last seen him, I spotted the six doe's that he was with so I sat tight thinking he would show. As I sat and watched, ready and impatient, the doe's suddenly spooked for some reason. WHAT!? WHY!? The wind was in my face, blowing quite hard actually and I definitely came in unnoticed so I scratched my head as to what the reason was. Low and behold, a damn coyote was messing with them. I thought about dropping it in it's tracks but was afraid I would run the buck out of there so I held off. As the day went on, I decided to leave. I went home that day with my head hung low and totally bummed. Not to mention I let a coyote walk. I didn't sleep much that night. In fact, I was so bummed the next morning that when my alarm went off, I shut it off and went back to sleep only to have my wife wake me up and get me moving. Bless her heart. Encouragement can go a long way. Shhhhhh! I actually listened to her for a change. I got ready and once I did I was pumped. As I arrived at "The spot," impatiently waiting for the sun to rise, all I could do is picture his rack as he ran away from me the day before. The mind games have started and doubt began to set in. As it became lighter and lighter I started glassing hoping he would be there. He wasn't! With anxiety starting to rise, I began my search. The hunt was on! I got to the spot where I last seen him and began to lose hope. I kept going and went through a big group of pinion pines and sagebrush. It began to open up into another clearing just 200 yards away from where I originally seen him. Nice! I then spotted some deer and instantly seen a huge rack disappear into the pines and out of sight. In a panic, I threw up my binos only to see some doe's and a small buck looking right at me. Worried, I kept glassing. I finally spot him and HOLY CRAP! He is walking right towards me. Excited and trying to keep myself calm, I quickly chamber a round and shouldered my rifle as he continued towards me following a doe. He instantly lifted his head from the movement and sound of chambering a round. I was so busted! I stood there. Frozen. To my amazement, he dropped his head and turned broadside just 100 yards away. He obviously had other interests in mind. The ladies! I took advantage. Here is my second chance! I picked my spot and squeezed the trigger. BOOM! The shot breaks the morning silence. I connected. B.B.D!!!! REDEMPTION! The rest speaks for itself."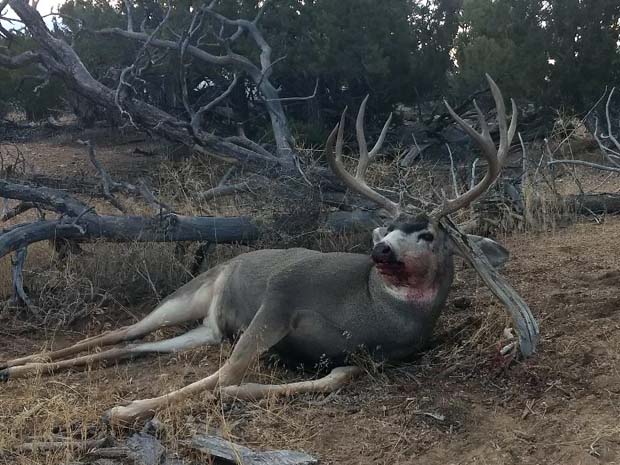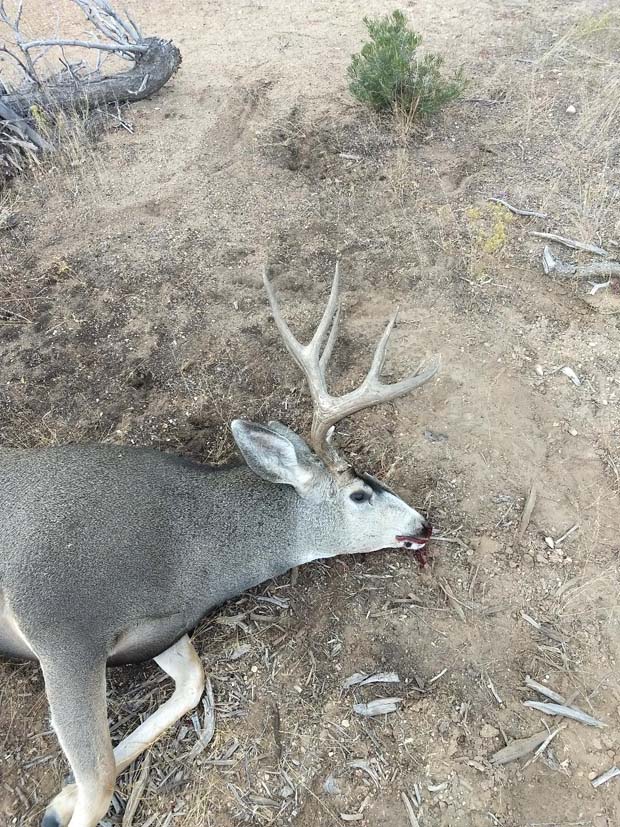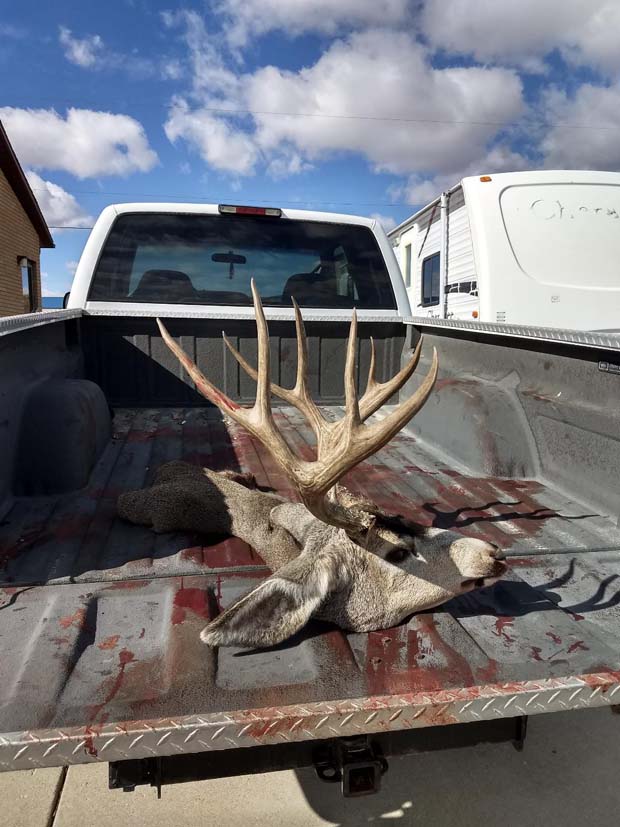 Click-a-Pic ... Details & Bigger Photos
Click-a-Pic ... Details & Bigger Photos
Home | Hunting Forums | Photo Gallery | Hunting Articles | Videos

|


Hunts & Tags | Hunt Draw Odds | About Mule Deer | About Elk
Store | Classified Ads | Photo Tours | About this Site | Advertising

|


Older Content | Email Us | Privacy Policy | Links | Podcasts