"Rhodes Canyon Oryx Bull"
Photo provided by: Carlos Garcia
Carlos Garcia (aka ixsolracxi) shared in our very active New Mexico Forum the following.....
"Rhodes Canyon Bull - Just wanted to share the bull I was fortunate enough to harvest Friday afternoon. I was only planning on scouting a few areas Friday unless I saw a nice oryx.
I saw an oryx about 250 yards off the road, glassed him fast, and decided I would make try for it. The horns were about 30-31" I was thinking. He didn't spook so I kept driving to get behind the rise he was standing on. I get out of the truck and work my way up the rise using brush as cover. I get to the top and can't find him, he found me first, staring straight at me. He doesn't stick around and just trots away. I head the direction he went so I can see where he is going. I finally cut the road again and spot him at the base of some hills to the north. I notice he appears to be heading northeast on the hillside which will put another small rise between us. I am in an open area with some cholla's I can use for cover but if I can get to the junipers a few hundred yards to the east I can use them as cover, get up to the rise between us, and hopefully cut him off. The plan works and I start up the rise which had some big junipers at the top to conceal me and not skyline myself. I get to the top and cautiously look around for the oryx but I can't find it. After several minutes looking at the opposite hillside, up and down the canyon, I decide he must have gone over the top. I step out from behind the juniper, take a few steps, and there he is straight across the canyon from me. I drop to my knees, take off my backpack to use it as a rest, get into prone and load a round. I find him in my cross hairs as he presents a perfect broadside shot. I hold a little above the black racing stripe on his front leg and shoot. The oryx goes down, I load another round, and get back on him. He is still on the ground kicking but isn't getting up. I stay on him just in case he gets back up but he doesn't. I get up and head over toward my oryx. When I get to him I see he still has a little life in him so I put a final round in him. At that moment I didn't realize the size of the bull I harvested. I was thinking he was about 33-33". The Browning 7mm-08 with 140 grain Nosler Accubonds did it's job again, two bull oryx in two years (daughter last year).
I start working on quartering him and packing him out. It's a solo job because my daughter and cousin couldn't make the hunt and I had to be off the range by 7pm. I get back to my truck with my 2nd load at 6pm and would have to come back in the morning for the head, a front and hind quarter and neck meat. As I get to my truck there is a military police officer waiting there. He asks me where the oryx is down, I point in the direction and say about 3/4 of a mile but that I was coming back the next morning because I have to be off the range by 7 and I am 46 miles from the check in/out station. He says "let's go get him now so you don't have to come back in the morning", he calls in saying I am with him and we get the atv off his truck and go get the rest of my oryx. Finally, at 10 pm we are back at the check station. The crew measures the bull at 37 1/4" right horn, 38 5/8 left and the bases are 6 3/4 inches. I never expected to harvest such a great animal, my goal was 30".
I want to give a huge thanks to Lieutenant Sam Utnage for all of his help and time to get my oryx out of the field Friday night."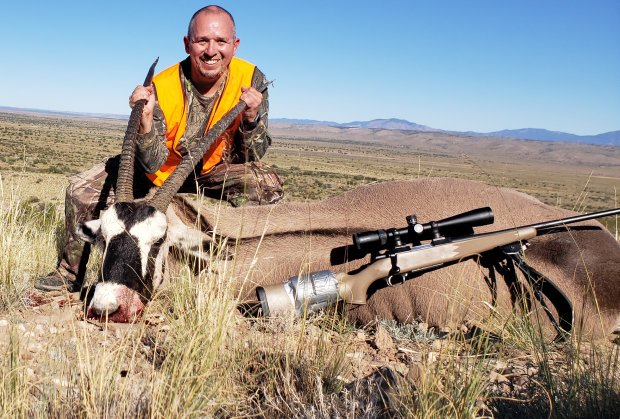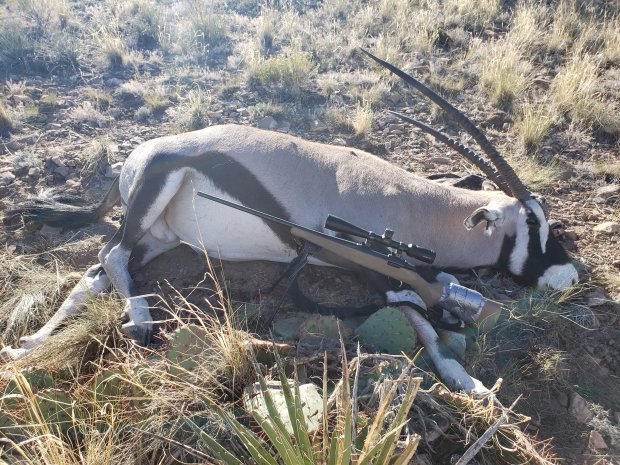 Click-a-Pic ... Details & Bigger Photos
Click-a-Pic ... Details & Bigger Photos
Home | Hunting Forums | Photo Gallery | Hunting Articles | Videos

|


Hunts & Tags | Hunt Draw Odds | About Mule Deer | About Elk
Store | Classified Ads | Photo Tours | About this Site | Advertising

|


Older Content | Email Us | Privacy Policy | Links | Podcasts