"Quick Whitetail Buck Season"
Photo provided by: Randy Sipe
Randy Sipe (aka RS) scored on a couple nice bucks this year. Here's what he shared in the forum.....
"Quick Whitetail Buck Season - I'm a recently re-registered member after being on here for several years back in the 1990s and early 2000s. After going to grad school at Univ. of Wyo. and living in Colorado for 16 years I moved back to my home state of North Carolina in 2001 and have been hunting whitetails again ever fall.
We have a long deer season in the eastern part of NC where I live with 3 weeks of archery in Sept, 2 weeks of muzzleloader in early Oct and a firearms season that runs from mid Oct through the end of the year. This year I had not thought about hunting with a bow or muzzleloader because of the hot weather, humidity, and skeeters. We had a heat index of 100 the 1st day of muzzleloader season. Then during the 1st part of rifle season I was able to take a trip to Wyo for an elk hunt and the rest of my free time was taken up my family responsibilities until the 2nd weekend of Nov. On 11/9 I headed out before daylight for my 1st deer hunt of the year. Because I hadn't had a chance to do any scouting I decided to sit in stand in a know travel corridor in a big creek bottom at the intersection of gas line and power line right of ways. Bucks like to cruise through the area when the rut is going on. It was cool morning with a big frost and I got settled in a few minutes before shooting light. Right off I saw 5 does about 7-800 yds up the power line on another property. About 30 minutes later the next deer I saw was a nice buck that came out of the woods on the right side of the power line at about 150 yds. I could see he was a shooter for the area with a tall rack. he was at a steady walk, posturing with his ears laid back. I had to almost yell at him to get him to stop. When he did I put a 180 grn. Accubond from my 300 H&H right behind his shoulder. I knew I hit him good and was watching him thought the scope to mark where he went in case he got into some thick stuff before falling. Just as he piled up at the edge of some weeds and tall grass I saw another buck trot across the power line from the other direction and stop about 30 yds from the dead buck. Since we get 2 buck tags in NC, I worked the bolt and shot him. Because I was shooting through some grass and weeds I couldn't see his reaction, but I did not see him leave the power line. The whole deal was over in about 20 seconds. I waited a few minutes, got down and found the first buck right away. He was a nice tall symmetrical 8 point with the good mass. After a few more minutes I found the second buck, also a nice 8 point with a larger body that the 1st. Both bucks had fresh bark on their brow tines from rubbing trees. I guess what happened is that the 1st buck knew the 2nd one was there and was going to kick his butt. The second buck had several fresh scars on his head and neck. So, my NC buck season lasted about 30 minutes. I still have some doe tags and have been out twice since but have only seen more bucks."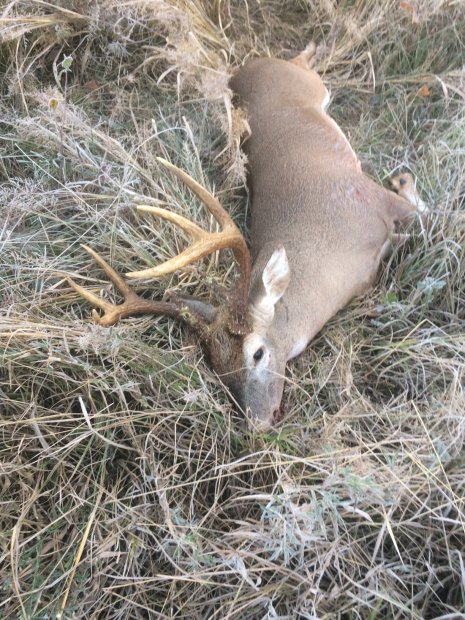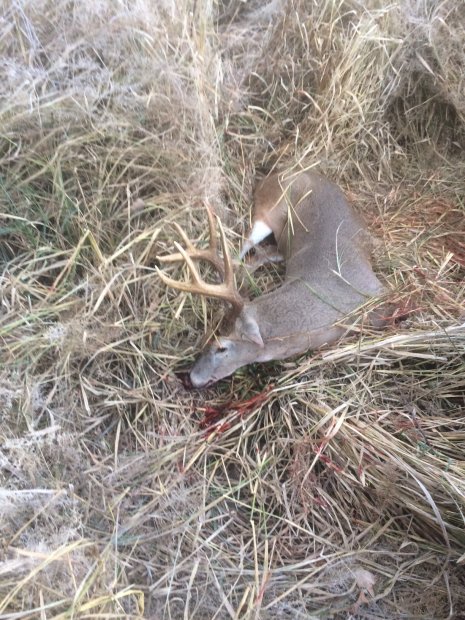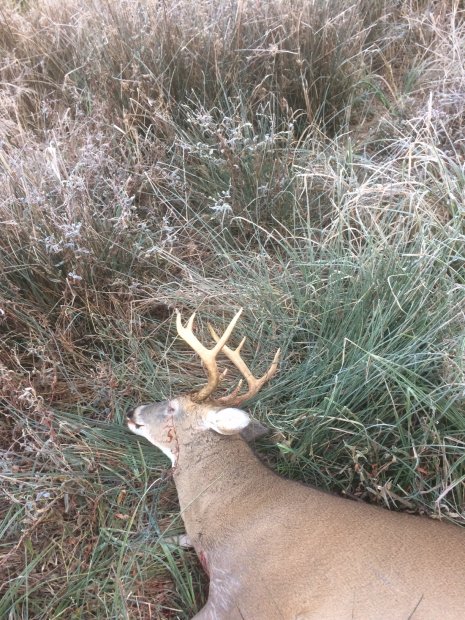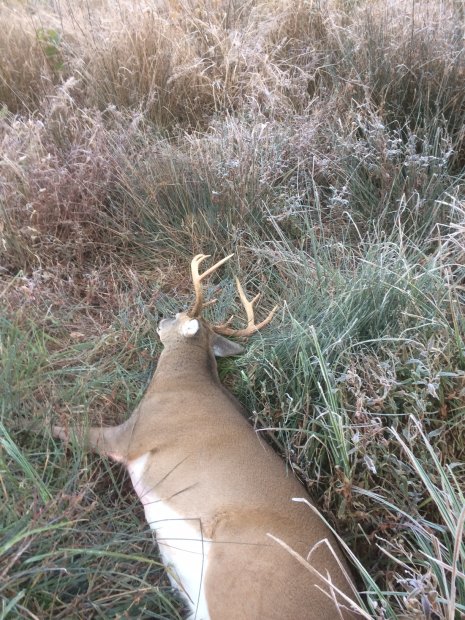 Click-a-Pic ... Details & Bigger Photos
Click-a-Pic ... Details & Bigger Photos
Home | Hunting Forums | Photo Gallery | Hunting Articles | Videos

|


Hunts & Tags | Hunt Draw Odds | About Mule Deer | About Elk
Store | Classified Ads | Photo Tours | About this Site | Advertising

|


Older Content | Email Us | Privacy Policy | Links | Podcasts