"Loke's Deep-Forked Beauty of a Buck"
Photo provided by: Tyler Ferre
Hunting Adventure by: Tyler Ferre
Where to start on this story. My wife (Loke) and I have been a hunting duo since we were married 6 years ago. Before that she had never really hunted, just small experiences here and there. Her first ever deer hunt, she harvested a mature 7 year old buck, that was 30" wide. He sported a really unique double main beam (bottom picture). Since then she has been hooked. She has harvested some nice deer between then and now.

Early this year, she told me she wanted to harvest something special, and was going to put in for a dedicated deer tag, and chase deer with her bow, muzzy, and lastly a rifle. We ran a string of 20 trail cameras over 70 miles from the furthest north to the furthest south camera. We went out and glassed, and scouted as much as time would permit with two small girls. As you can see in the pictures we turned this buck up in early July. We decided to name him "Bob", as he gave us hope (Bob Hope). And we often recalled saying "What about Bob". Unfortunate, come August 6th all the deer that we had seen regularly disappeared, and throughout the archery, and muzzleloader we could never turn them up.

Fast forward to the night before the rifle hunt, we had no expectations, as the last two hunts had been very disappointing. We had talked at length of ideas of where they could have gone, and where we should look. The last day of the muzzle loader hunt, we followed a track way out into the desert flat. It disappeared into a thicket of tall sage brush. We decided to drive to a place with a little elevation, which is hard to find in the desert flats, and started to glass. We hadnít sat down for longer than 30 minutes, when I spotted a group of deer out past 1500 yards. We decided to make a mad dash to the truck to try and get closer to see what may be within their ranks. We got into position with about 10 minutes of light left. We mainly saw small bucks, and a few does. With the last few minutes of glassable light, I saw Bob walk out of some thick brush. There being quite a difference of height between my wife and I, she struggled to get to the lense of my spotter, to get a look. I hurried and lowered it, and she saw what I had seen. The buck we knew we would be chasing that coming morning.

We sat up late that night running scenarios past each other on what we should do, and what might happen. We knew this being a general unit on BLM land we would have competition from other hunters come morning, as we did on the archery and muzzy hunt. We decided to head out early, and be in position 2 hours before light to let thinks calm down, and to try and glass as much as we could.

We sat and froze, waiting for first light, and once we had enough light I sat and scanned the top of the brush in all directions. About 15 minutes into shooting light, I spotted what I thought was antler, and told my wife I had a buck in sight, only to confirm moments later it was a polished piece of sage brush. I began to scan again, and as soon as I did, I saw Bob sneaking through the tall sage. I told Loke I had found Bob, she had a hard time believing me, till she saw him for herself. I would catch glimpses of him, as he moved through the brush. Like clockwork, down the two track comes two hunter rigs headed into the flat. My wife decided to start glassing in the opposite direction to throw the hunters off, as they stopped and looked at us through there binos. I never took my eyes off of Bob. As the trucks started to move again, two other bucks joined with ours moving through the brush, keeping their heads low, as they moved. I could not believe how smart they were. I glassed them for about 30 minutes till they moved to a large thicket of sage about 6 feet tall, and I lost them.

We sat and watched that thicket for about an hour and never saw them leave. Hoping they had decided to bed, and not given us the slip, we made a plan. My wife would move down wind of them to about 100 yards. Once she was in position I would make a large circle, and try to jump them from there bed, and right to her. I sat and glassed as she slowly weaved her way into position. It took about an hour for her to close the distance. I looked at her through my glass, and she gave me the thumbs up that she was ready. I packed up, and made a large circle up wind. Once I was about 150 yards from the thicket, I thought maybe they gave us the slip, as nothing had moved in the thicket. I kept closing the distance till I was within 40 yards. With each step I was losing hope. Then all at once, two bucks stood up right in front of me (smart old bucks not spooking till I was really close). One being our target buck Bob. And just as planned, they turned, and went right in the direction of my wife.

I sat and prayed to hear a shot, and sure enough my ears heard the sound of a solid hit, followed by another. I moved to where I could see my wife and raised both of my hands in questioning. She replied with a fist shake and a smile. I could not hold it in, and let out a cheer, as I had a rush of adrenaline. I walked up to the buck in awe, pulled out my phone and filmed Loke as she came in to take a look at the result of months of hard work.

Hunting plans rarely play out as this one did, and Iím still grateful for how smooth it went. We took some pictures and started to take care of the deer and get it to where we could get a truck. I made a long walk back to the truck as she sat in wonder with her quarry. As we got back to camp and hung it up to skin it, she said she wanted to cape it herself and took over. As I took a seat, I snapped a simple pic. But to me, that pic signifies months of hard work. Running cameras. Shooting bows in the back yard. Last minute scouting trips. Countless gallons of gas. Eating up a full days checking cameras. Walking miles trying to cut tracks, trying to figure out where the deer had disappeared. Hunting the archery and muzzy without a sight of a buck we would like to harvest, and the frustration that brings. Then ultimately the pay off. And it was all worth it, every minute.

I love that she shares my passion. I love that she has the drive as I do to keep pushing. I could not ask for a better hunting partner. She has strength where I have weaknesses. But, as I told her, it's now my turn.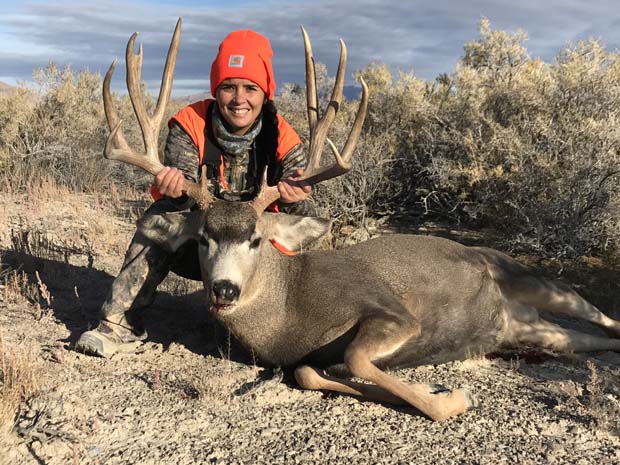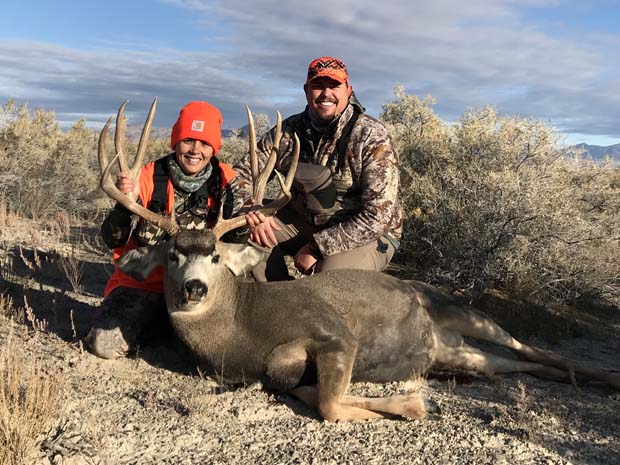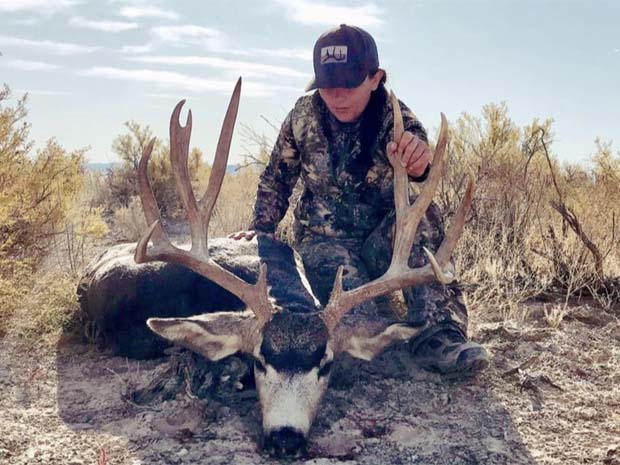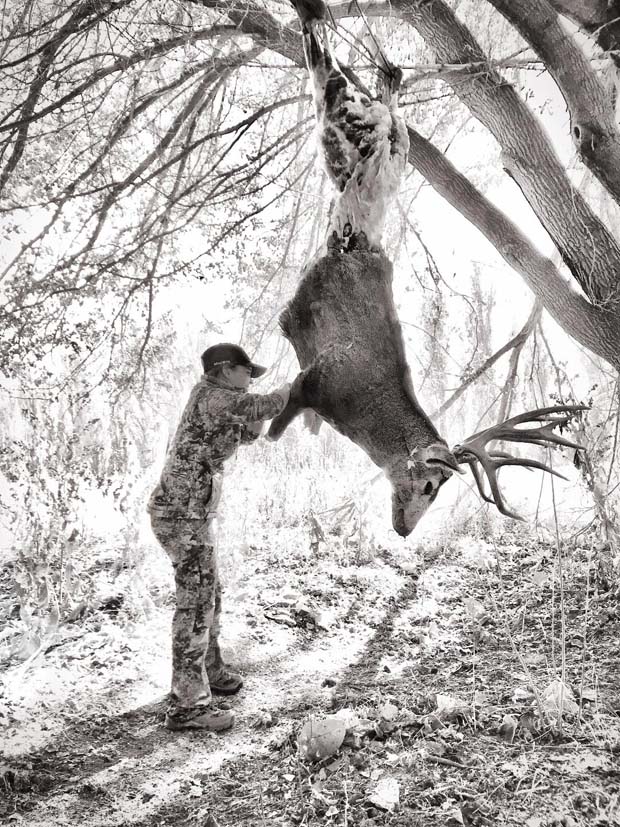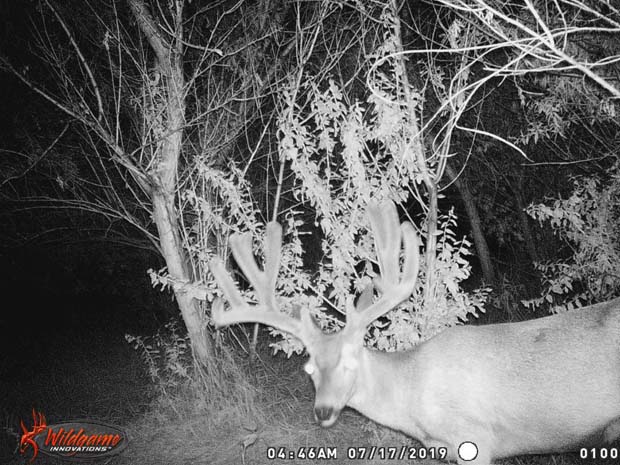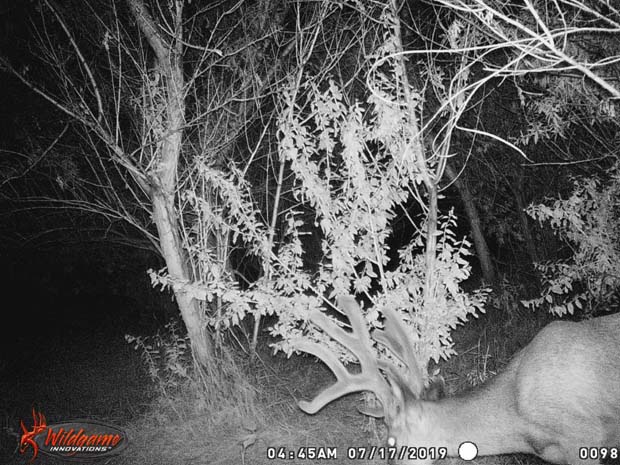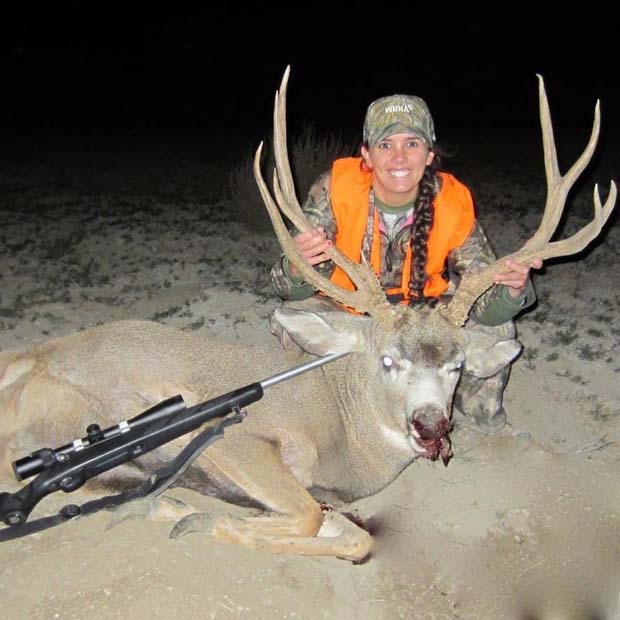 Click-a-Pic ... Details & Bigger Photos
Click-a-Pic ... Details & Bigger Photos
Home | Hunting Forums | Photo Gallery | Hunting Articles | Videos

|


Hunts & Tags | Hunt Draw Odds | About Mule Deer | About Elk
Store | Classified Ads | Photo Tours | About this Site | Advertising

|


Older Content | Email Us | Privacy Policy | Links | Podcasts